The First Interview of an APRSAF Member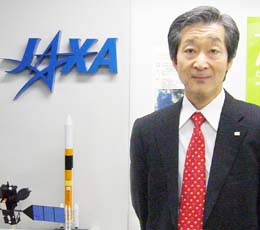 APRSAF Secretariat visited the Disaster Management Support Systems Office (DMSSO), Satellite Applications and Promotion Center of the Japan Aerospace Exploration Agency (JAXA), which was established on May 1, 2006, and had an interview with Takashi Moriyama Ph.D., Director of DMSSO. The DMSSO is a new organization that was created when JAXA reviewed its organizations to further realize JAXA's objectives in an effective manner.
Establishment of DMSSO
JAXA announced its long-term vision for the period up to 2025. This vision includes the goal of contributing to a safe and secure society and the DMSSO was established to support the use of disaster countermeasures as a part of the Space Segment.
Although DMSSO was inaugurated on May 1, 2006, the Asia branch will open in Bangkok in Thailand on June 26 and two representatives continually support the efficient promotion of the Sentinel-Asia project.
Organization of DMSSO
There are ten full-time employees in DMSSO. They cooperate with the Earth Observation Center (EOC), the Earth Observation Research Center (EORC) and other posts that will be involved in the event of a disaster, so in total over 20 staff will wrestle with disaster relief efforts.
Work of DMSSO
The DMSSO has two main tasks: ⑴ operation of the International Disaster Charter and ⑵ operation and data effectiveness of ALOS.
The International Disaster Charter is an international joint framework that ESA and CNES initiated with CSA and NOAA, and they were later joined by ISRO, CONAE, JAXA and USGS. The International Charter aims to provide a unified system of data acquisition about space and provide it to those affected by natural or man-made disasters through authorized users. When a large-scale disaster occurs somewhere in the world, each member agency will change the Satellite Operation, under their own judgment, and commit resources to support the provision of the Charter, thus helping to mitigate the effects of disasters on human life and property.
JAXA has become involved with the International Disaster Charter three times so far.
It provided PALSAR data about the landslide on Leyte Island in the Philippines
It provided PRISM, AVNIR-2 and PALSAR data about the eruption of Mr. Merapi in Indonesia
It provided PALSAR and AVNIR-2 data about the disaster caused by the earthquake near Yogyakarta, in Java, Indonesia
JAXA not only provided images, it also sent information that estimated the extent of the suffering to the local organizations in Indonesia and the Press in Japan.
Japan has not invoked the International Disaster Charter, as a country where disasters can occur, but the Cabinet Office will invoke the charter if a large-scale disaster occurs in Japan
Although we, of course, are examining the satellite for the next term, we think that it is also important to confirm the operation and effectiveness of data from ALOS and we are now coordinating with the relevant ministries and agencies on how to use ALOS for disasters.
For instance, we are communicating with the Coordinating Committee for Prediction of Volcanic Eruptions, the Coordinating Committee for Earthquake Prediction and other relevant organizations concerning damage from storms and floods.
I think that we will decide on the kind of demonstration experiment to perform and the kind of framework in which to perform it, in the coming month.
We are aiming to implement the Sentinel-Asia system, which is a system to share disaster information between the relevant countries in Asia, from this fiscal year.
The goal is to operate the Sentinel-Asia system to share disaster information in the related countries in Asia within this year.
We are proceeding with the aforementioned two main themes, while DMSSO is upgrading a database for the utilization of ALOS data during its regular workdays. Namely, we are upgrading a map information base and asking the organizations relating to various disasters to use this base.
Activities of DMSSO for Disaster Prevention in Asia
Looking from a worldwide point of view, 60% of the large-scale disasters occur in Asia and 90% of the casualties are people living in Asia.
Considering this, it is vital that Japan together with Asian countries establishes and operates a system for support, restoration and recovery from the disasters.
Sentinel-Asia is such system for disaster prevention in Asia. This system, by upgrading the network infrastructure, acts as a watchdog that monitors disaster situations and shares the acquired information with Asian countries.
JAXA proposed the establishment of the Sentinel-Asia in the APRSAF conference held in Kyushu in October, 2005, and called for participation. After that, an Adjustment Conference was held in Vietnam in February, 2006 and a second Adjustment Conference is scheduled in Bangkok, Thailand, at the end of June, 2006.
Future Schedule of Sentinel-Asia
We expect the participation of about 90 people from six international organizations and 35 organizations from 20 countries in the second Adjustment Conference in which we will discuss the manner of establishment and operation of the actual system, as well as the participation of countries in Sentinel Asia and its operation rules.
Regarding schedules, we expect the first-period system to be completed during the period between 2006 and 2007. After that, our goal is to integrate ALOS, ETS-8 and WINDS in the second-period system, in which ETS-8 is to send disaster information individually and WINDS is to send large-volume data to Asian countries.
Bilateral cooperation in addition to multilateral cooperation as Sentinel-Asia
In Asian countries, the framework for disaster prevention utilizing Sentinel Asia is taking form, but JAXA is also trying at the same time to promote bilateral cooperation.
For instance, JAXA has an agreement of comprehensive cooperation with Vietnam for the development of a small satellite and also an agreement of cooperation with Thailand for a project of direct data reception and utilization of ALOS. In addition, JAXA will cooperate with Thailand for the development of a next-generation satellite after launching THEOS in 2008. The construction of a cooperation framework with India and South Korea is also in progress.
Other plans for the utilization of disaster information from satellite
It is important to educate and train people who actually use the satellite data to promote the utilization of the satellite data for the disasters.
In addition to educating and training technologists in the use of the present remote-sensing data, we plan to train people of the organizations that will use the satellite.
Expectations and opinions to APRSAF in the future
To date, there have been very few activities to propose concrete projects in the APRSAF, but since around last October, new proposals for participation are being made.
JAXA aims to change the APRSAF from a place of free opinion exchange into a conference to share purposes and gestate projects.
A progress report on the Sentinel-Asia project is going to be presented in November this year, and we want to implement together with Asian countries a space-using system, that is to say space segment utilization, whose development is necessary in Asia. I also think that the APRSAF must become a conference which can vigorously promote information sharing on started projects.
JAXA intends to responsibly commit to APRSAF and derivative projects.
We know how busy you are with your job of disaster prevention, but could you share with us some technique of yours to maintain good health?
When disasters occur, we at DMSSO have to work extra hours and even on holidays. Therefore, I do not work overtime in normal days and encourage DMSSO's staff to do the same.
I also valuate much my free time and play tennis on weekends as a hobby.
I daresay this results in good health.