The Second Interview of an APRSAF Member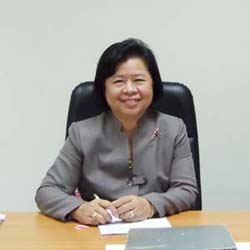 APRSAF Secretariat visited the Headquarters and the ground station of the Geo-Informatics and Space Technology Development Agency (GISTDA)and had the interview with Mrs. Praneet Ditsariyakul, Director of User Service and Business Development Office and Mr. Chaiyan Maolanont, Director of Earth Observation Center.
GISTDA Establishment and Organization
Thailand has been involved in Earth observation satellites since the launch of NASA ERTS-1 program in 1971 through Thailand Remote Sensing Program (TRSP) under the National Research Council of Thailand (NRCT). TRSP became one of the NRCT's division, called Remote Sensing Division in 1979, and was internationally known as Thailand Remote Sensing Center (TRSC). Subsequently, the ground receiving station was set up in Bangkok in late 1981 to acquire LANDSAT-2 MSS data. The station is currently capable of receiving and processing data from major Earth observation satellites including Landsat-5, Radarsat-1, SPOT-2, 4 and 5. On November 2, 2000, a new organization, called Geo-informatics and Space Technology Development Agency (GISTDA) was established as a public organization by combining TRSC and the GIS Branch of the Ministry of Science and Technology to conduct activities relating to Space technology development and Geo-informatics of the country.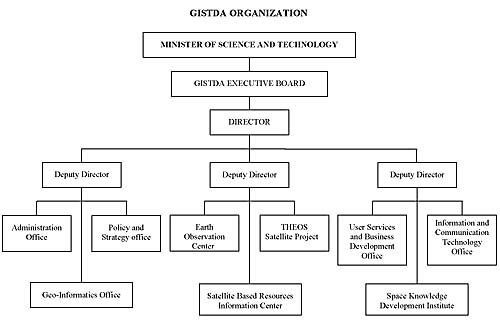 Vision
To be a center of excellence in space technology and geo-informatics and to develop national and international networks to promote and support the sustainable development of natural resources, environment, quality of life and national security.
GISTDA Main Mission
To develop space technology and geo-informatics applications to be beneficial to the general public
To develop and to serve as the satellite data base and the derived natural resources information center
To provide data services relating to space technology and geo-informatics
To provide consultation and develop human resources in satellite remote sensing and geo-informatics
To conduct researches and development as well as to implement other activities related to space technology, including the development of small satellites for natural resources survey
To be the core organization to establish common standards for remote sensing and geo-informatics systems
Thailand Earth Observation Satellite "THEOS" including Data Utilization
With the vision of being the center of excellence in space technology and geo-informatics, GISTDA was approved by the government to be the implementing agency for Thailand Earth Observation System Project (THEOS). THEOS is 3-year satellite development project under the cooperation between Thailand and France. THEOS will provide data with 2 meter resolution in Panchromatic with swath width of 22 Kilometers and 15 meters in Multispectral with swath width of 90 kilometers, It is scheduled to be launched in mid 2007 into a sun-synchronous orbit at an altitude of about 820 kilometers. It also can provide stereo image. THEOS data will be useful for various applications including agriculture, forestry, lauduse, water resources, urban planning, environment and disaster management.
Disaster Management in Thailand
At present satellite imagery are widely used for monitoring and assessment of natural disasters especially flooding, landslide and forest fire. It is also useful for damage prevention and mitigation planning.
In Thailand we usually use the data from Landsat-5, SPOT-2, 4, 5, IKONOS, QuickBird and Radarsat. However, due to the cloud cover and conflict with the other user requests; we always meet with inadequate data needed.
GISTDA believe that Thailand care make use of THEOS data for disaster management. Since Thailand owns THEOS satellite, we can command, control and operate it ourselves. We will therefore have more chance and more frequency to program and acquire the data needed. Data sharing in the mitigation of disasters internationally is also taken into account.
International Cooperation
Thailand has entered into a number of international cooperation with regards to space technology and geo-informatics-related activities.
Thailand-ESCAP
Thailand has been involved in space activities with ESCAP since the First Ministerial Conference on Space Application in China. In 1994, the Regional Space Application Program for Sustainable Development (RESAP) was established in order to support the regional cooperation on space technology and its applications. At the present, Director of GISTDA is National Focal Point for RESAP and Deputy Director of GISTDA is National Focal Point for Remote Sensing, GIS, and Satellite-based Positioning (RWG).
Thailand-ASEAN SCOSA
SCOSA (Sub-Committee on Space and Application) is a sub-committee under the ASEAN Committee on Science and Technology-COST. The purpose of this sub-committee is to provide cooperation framework on space technology and application, including collaboration in applications for sustainable development in ASEAN region.
GISTDA is the coordinator for publishing of the book "ASEAN from SPACE" which is the collaboration amoung ASEAN countries. Each member country kindly provided the information on its country illustrated with satellite imageries to promote the use of remote sensing as well as other technology concerned.
Thailand-Japan
Thailand has cooperated with Japan in satellite remote sensing technology developments and its applications since 1986 starting with the MOS-1 program and expanded to JERS-1 program in 1993. The 5 year MOU between GISTDA and NASDA (JAXA) on JERS-1 Pilot Project was signed on November 10, 1997.
The 3 year MOU between GISTDA and NASDA (JAXA) in the field of earth observation technology and satellite application was signed on March 21, 2001. The purpose and scope of this MOU is to provide cooperation framework and to encourage collaboration in earth observation data applications between Thailand and Japan through joint research and development and exchange of information and personnel.
Thailand-France
The cooperation between Thailand and France in the field of space technologies and applications, focusing on remote sensing and related technologies has been strengthened and enhanced by the Agreement signed on January 27, 2000. The purpose of this Agreement is to provide cooperation framework in the field of space technology and related applications and to encourage collaboration in various scientific fields, as well as to develop economy of the two countries.
Training
GISTDA has recently established the new office called "Space Knowledge Development Institute" This Institute is responsible for human resources development and technology transfer especially in the field of geo-information.
The annual training of approx. 12-15 courses are organized for the government and private sectors of Thailand and those of neighboring countries. User-oriented courses are also available.
Establishment of Thailand Ground Station
Thailand Ground Receiving Station was established in Bangkok in late 1981 and in operation for acquiring Landsat-2 Mss data in 1982.
Currently Thailand Ground Station receives the following satellites: Landsat-5, Radarsat-1, SPOT-2, 4, 5, and being the reseller of IKONOS, QuickBird and ASTER data.
Data Archives:
LANDSAT-2, 3 MSS From Jan 1982-Mar 1983
LANDSAT-4 MSS From Apr 1983-Oct 1987
LANDSAT-5 MSS From Apr 1984-May 1990
LANDSAT-5 TM From Dec 1987-Sep 2001
LANDSAT-7 ETM+ From Feb 2001-Jun 2004
LANDSAT-5 TM From Mar 2004-upto the present
RADARSAT SAR From Jul 2000-up to the present
SPOT-1, 2 P/XS From Dec 1987-Dec 1998
SPOT-2, 4, 5 P/XS From Apr 2005- up to the present
MOS-1A, 1B MESSR From May 1988-Apr 1996
JERS-1 OPS/SAR From Oct 1993-Oct 1998
ERS-1, 2 SAR From Mar 1993-Oct 1999
IRS-1C, 1D P/LISS3 From Feb 2000-Apr 2004
NOAA-11, 12, 14, 15 AVHRR From Dec 1992-Apr 2002
NOAA-16, 17 AVHRR From Mar 2005- up to the present
Future Plan
To receive and distribute ALOS data in February 2007.
To operate the THEOS satellite in mid 2007.
To distribute the THEOS data worldwide in late 2007.