The Interview of an APRSAF Member
- Malaysian Centre for Remote Sensing (MACRES) -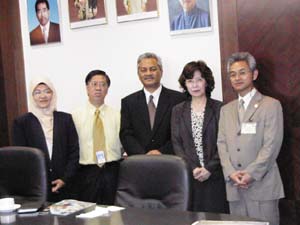 APRSAF Secretariat visited Malaysian Centre for Remote Sensing (MACRES)to make an interview with Mr. IR. JAAFAR AHMAD, Deputy Director (Operations), Ms. SALMAH BINTI KASIM, Head (Corporate Division), Mr. JIMAT BOLHASSAN, Head (Spatial Data Analysis and Modeling)
Establishment and Future plan of MACRES
MACRES, MOSTI (Ministry of Science, Technology and Innovation) was established as an R&D center in Aug. 1988 and was fully operational in Jan. 1990. MACRES will have a new division to handle disaster management which will be called the Disaster Management Division.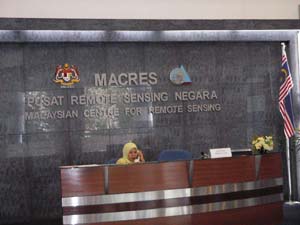 Organization of MACRES
MACRES started with a team of 17 professionals and supporting staff, and total up to 190 posts (including contract researchers). MACRES is staffed with dedicated professionals to lead the nation in areas of remote sensing space technology applications for development. Its manpower development programme continues to strive towards having full compliment of qualified and trained scientists and engineers in selected areas of specification to attain the country's self-reliance in these technologies.
The operation of remote sensing
There are three segments in the operation of remote sensing. They are User Segment, Ground Segment and Space Segment. The User Segment means capacity building and the Ground Segment means ground station and remote systems. The Space Segment means to develop the capacity to build satellites. This segment is now being carried out by the Space Agency.They are going to launch one satellite next year and MACRES will receive the data from the satellite at their ground station.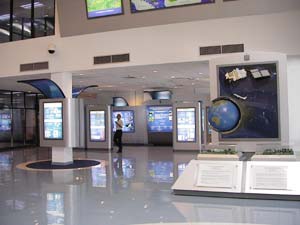 MACRES Ground Receiving Station
Currently, MACRES is equipped with computer system for satellite data image processing, geographic information system and global positioning system, satellite ground receiving station for real time data acqusition, microwave remote sensing laboratory (anechoic chamber, mobile scatterometer), remote sensing digital photographic laboratory,remote sensing data archiving and retrieval centre, National Disaster Data and Information (NADDI) System and MACRES GIS Immersive Centre (MAGIC).