Interview at 4th Sentinel-Asia Joint Project Team Meeting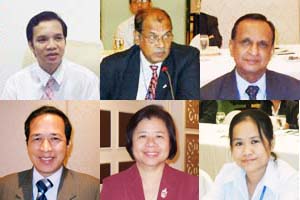 Dr. JOSE EDGARDO L. ABAN (DOST, Philippines)

Mr. Md. Obaidul Quader (SPARRSO)
Cases of Practical Data Use in Bangladesh
At the Joint Project Team Meeting in Manila on September 5, 2007, Mr. Md. Obaidul Quader, Chief Scientific Officer of the Bangladesh Space Research and Remote Sensing Organization (SPARRSO), introduced his organization's reports on practical satellite data use for disaster prevention.
Bangladesh is affected by many disasters, such as floods, droughts, cyclones, erosion, earthquakes, deforestation and land degradation, and there is increasing demand for remote sensing and Geographic Information System (GIS) applications for disaster monitoring. SPARRSO has taken a pioneer role in applications of space science, remote sensing, and Geographic Information Systems (GIS) in Bangladesh. In Mr. Md. Obaidul Quader's presentation, one example of SPARRSO's practical data use related to the flood of 2004. At that time, about 39.5% of Bangladesh was affected by the flood. SPARRSO used a US environmental satellite's advanced very high resolution radiometer (NOAA-AVHRR) to map the flood and estimate the affected area.
After the presentation, Mr. Md. Obaidul Quader said, "Since Bangladesh has so many natural disasters, we are very happy to cooperate and work with JPTM. We also feel that strong coordination between our neighboring countries is needed to mitigate natural disasters like cyclones, floods, tsunamis, and earthquakes."
SPARRSO Website: http://www.sparrso.gov.bd/
Mr. Md. Obaidul Quader's presentation: http://www.aprsaf.org/data/jptm4_pdf/4-(2)_Bangladesh.pdf

Mr. N.W.S.W.S.De Silva (Ministry of Disaster Management & Human Rights Sri Lanka)

Dr. Nguyen Dinh Duong (VAST, Vietnam)

Ms. Praneet Ditsariyakul (GISTDA, Thailand)

Ms. Virany Sengtianthr (STEA, Lao P.D.R)