Activities of the Bangladesh Astronomical Society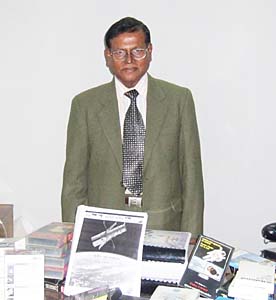 The Bangladesh Astronomical Society is an astronomical organization formed by a famous Bangladeshi astronomer called Mohammed Abdul Jabbar on November 12, 1984. It has been playing an important role in popularizing the subjects of astronomy and space science among the people of Bangladesh.
Mr. F. R. Sarker, General Secretary of the Bangladesh Astronomical Society said "Now, we are focusing on educating the young generation about space. In 2007, we held World Space Week 2007 (a program of the United Nations to create awareness about space among school students around the world). During this program, students participated in a water rocket competition, space art contest, space debate contest and Q&A session. In 2008, we will try to expand our educational activities throughout Bangladesh and we hope that APRSAF will hold a lot of space-related educational events such as a water rocket competition or a CanSAT launch (CanSAT is a small satellite model weighing 350 g to 1,050 g), so that children can come into contact with space technology." He also said "The Bangladesh Space Agency has a plan to establish a space technology educational institute in one or two years."