"Satellite data are definitely useful for disaster management. Quick analysis is the next step."
The National Research Institute for Earth Science and Disaster Prevention (NIED) of Tsukuba Science City, Japan, will be joining Sentinel Asia in 2016. Mr. Koji Suzuki, executive director of NIED, discussed the Institute's expectations in terms of space-based technologies for disaster risk reduction.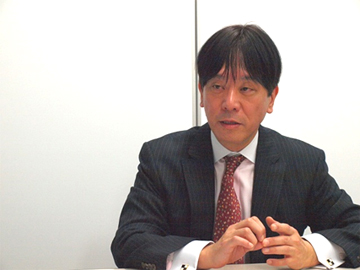 Secretariat
What brought NIED to be involved in Sentinel Asia?
Mr. Suzuki
When I was working with the Asian Disaster Reduction Center (ADRC) about 10 years ago, I heard about Sentinel Asia and instinctively thought it was interesting and held much possibility. Disaster management authorities in most Asian countries have limited resources for their activities, but with satellites, getting information for broad areas at once will work well and substantially support their capacity for disaster management. Moreover, Sentinel Asia operates on a voluntary basis, which I think is one of the best advantages of the initiative because many countries can join with no particular liabilities. It is significant that not only space agencies but also disaster management agencies, such as ADRC, and national disaster management authorities have access to satellite data. Only in using satellite data could they know how useful it is, as well as its limitations. Subsequently, then they can think about the next steps in terms of more practical applications of satellite data to disaster risk reduction. As such, Sentinel Asia is a good tool to encourage membership.
The NIED has dealt with remote sensing and can probably contribute to Sentinel Asia as a data analysis node (DAN). NIED has attended several meetings of Sentinel Asia. In December 2015, it decided to join Sentinel Asia.
Secretariat
As a member of Sentinel Asia, what do you expect?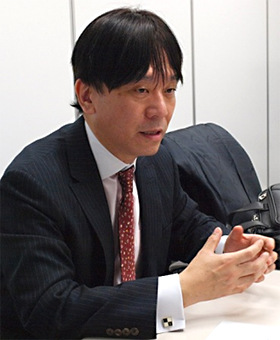 Mr. Suzuki
Studying soil moisture content might be useful to monitor the risk of landslides; satellite data could help in the measurement and analysis. Combining soil moisture data with precipitation and land form data, we can analyze the risk for landslide more precisely.
We also expect a reduced time-lag in analyzing satellite data for damage assessment. The analysis groups in Sentinel Asia work voluntarily, so it is difficult to develop their output on weekends and at night. One solution would be the introduction of machine learning technology. Shortly after a disaster, in one or two days, rough but rapid analysis may be needed by policymakers. Such data, for example, on a destroyed bridge, could be prepared by machine learning. Precise analysis can be made later by the experts based on the particular needs. If there are some fundamental patterns for data analysis, the machine can learn to process them.
Secretariat
If the practical needs of disaster management authorities and practitioners are collected through the framework of Sentinel Asia, it is great. What do you think of this?
Mr. Suzuki
It is very important to know the practical needs of the disaster management authorities. Last year, Myanmar suffered from a sneaking flood, and Sentinel Asia responded and delivered remote sensing data for the affected area. A letter of thanks was sent by the Myanmar government to Sentinel Asia's secretariat. However, we cannot see clearly how they actually utilized the data in their operation. They did not make the most of the data. Perhaps consultation, review of their disaster management operation, and proposal of ways for applying the satellite data can be effective. Sentinel Asia could promote satellite data to be applied to disaster risk reduction more effectively and practically.
Secretariat
That scenario is not limited to Sentinel Asia activities, is it? Remote sensing application, and information sharing in general, can be improved among other countries through APRSAF.
Mr. Suzuki
Yes. APRSAF is a very good framework in that sense. To develop an effective disaster management operation with the application of remote sensing data in an Asian country, fund-raising for projects that facilitate those applications is very important. We need to have more consultation and networking activities with donor agencies, such as the Asian Development Bank and Japan International Cooperation Agency. It is essential to facilitate the application of remote sensing data in the practical scene and then implement projects for satellite data application. To develop the projects and find the project partners, APRSAF is an ideal platform.
Secretariat
Finally, can you tell us about your impression of the APRSAF meeting? Was APRSAF-22 the first annual meeting that you participated in?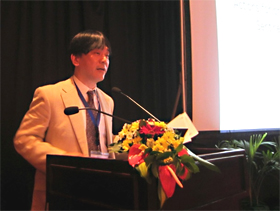 Mr. Suzuki
Yes. This is my first time. I felt it was relaxed in a good way. There was an atmosphere where everyone is welcome to speak. Focus should be given to ideas. Finding a good one and putting it into practice are among the challenges for APRSAF. It is sometimes argued that meetings should be more committed, but the APRSAF style as it is, I think, would be more fruitful.
Secretariat
Thank you.