KAGUYA (SELENE) is successfully injected into lunar orbit and takes images of the Earth
KAGUYA is a lunar explorer that was launched on September 14, 2007 (JST) from the Tanegashima Space Center in the south of Japan, and which has satisfactorily flown toward the Moon.
After the successful lunar orbit injection maneuver had finished at 6:20 a.m. on October 4, 2007 (JST), Japan Aerospace Exploration Agency (JAXA) confirmed that KAGUYA had been injected into the following lunar orbit.
Injected orbit: Apogee altitude 11,741 km, perigee altitude 101 km. It has been confirmed that the satellite is functioning well.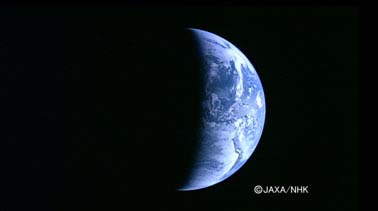 Fig. 1 shows an image of the Earth taken by KAGUYA's onboard High Definition Television (HDTV) developed by NHK (Japan Broadcasting Corporation) on September 28, 2007 (JST). It is an image from the world's first high definition movie of the Earth taken from about 110,000 km away.
Mr. Etsusada Takizawa, SELENE Project team leader, said: After the launch the SELENE Project team successfully performed several critical maneuvers such as opening the solar array paddle and extending the high-gain antenna.
We had convinced ourselves that we would successfully inject the satellite into lunar orbit because the JAXA team and the manufacturers of the satellite had been closely working together. However, frankly speaking, during the lunar orbit injection the atmosphere in the operation room was very tense as the maneuver was a critical one.
Once we had perfectly completed the scheduled maneuver we all heaved a sigh of relief and then applause naturally broke out in the room because we had made a great advance for KAGUYA.
There are still, however, some critical maneuvers that we need to perform such as checking the onboard devices to record observation data, which is the purpose of KAGUYA. We have faith that JAXA's project team, the manufacturers, and the instrument team composed of researchers will all work together to perform those maneuvers and successfully achieve KAGUYA's mission.
JAXA Press Release (October 1)
http://www.jaxa.jp/press/2007/10/20071001_kaguya_e.html
JAXA Press Release (October 5)
http://www.jaxa.jp/press/2007/10/20071005_kaguya_e.html