The 17th Session of the Asia-Pacific Regional Space Agency Forum (APRSAF-17)
- Comments from Working Group Co-Chairs -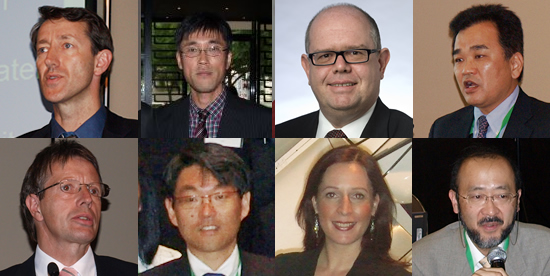 Dr. Adam Lewis
Earth Observation Working Group (EOWG) Co-chair
Group Leader, National Earth Observation Group, Geospatial and Earth Monitoring Division, Geoscience Australia (GA)
It was a pleasure to co-chair the Earth Observation Working Group (EOWG) with Dr. Shinichi Sobue, Japan Aerospace Exploration Agency (JAXA). My comments on a few key points below.
Sentinel Asia and SAFE
The EOWG has been exploring opportunities to expand the potential use of EO satellite data for disaster applications (Sentinel Asia) and the environment (SAFE: Space Application for Environment). New proposals from Thailand, Nepal, and Vietnam illustrated the progress and potential benefits of using this data for disaster management and for the environment. It was also very pleasing to see updates on projects in Indonesia, Pakistan, Sri-Lanka, Cambodia, and Lao PDR. Finally, the emergence of knowledge sharing within the SAFE community remains an important idea for Sentinel Asia and SAFE and is integral for the support and management of climate change issues.
Climate R3
CAustralia proposed a significant new APRSAF initiative in support of regional climate information needs – the APRSAF Regional Readiness Review for Key Climate Missions (Climate R3). This initiative complements SAFE and other international efforts and I look forward to seeing the Pilot Phase Report at APRSAF-18. This initiative will help APRSAF countries and institutions determine and acquire the full benefits possible from the services and applications of future climate-related satellite missions.
Partnerships with Private Sectors
It is important to encourage participation from the private sector. There are very important implications for collaboration between APRSAF governmental agencies and the private sector, and hopefully future EO Working Groups can further explore this cooperation to ensure that new space applications and technologies are fully supported in the mitigation and adaption required for climate change.

Dr. Shinichi Sobue
Earth Observation Working Group (EOWG) Co-chair
Planning Manager, Earth Observation Research Center, JAXA
Forty-two and 86 delegates from 4 international organizations and 18 countries/region participated in SAFE Workshop and APRSAF-17 EOWG, respectively. I would like to appreciate Australian efforts and congratulate all those working for SAFE Workshop and EO working group in APRSAF-17. In particular, I would like to express my deep thanks to Dr. Adam Lewis, Group Leader, National Earth Observation Group, Geoscience Australia, serving as co-chair of EOWG and initiating new initiative called "the APRSAF Regional Readiness Review for Key Climate Missions (Climate R3)".
In SAFE Workshop, two new prototypings were approved:
- Use of satellite data-derived ocean color and SST information for Thailand Fishery (Department of Fishery (DOF), Thailand)
- Calculation of carbon stock and assessment of forest changes toward REDD+ for Mangrove (Forest Inventory and Planning Institute (FIPI), Vietnam)
As for Nepal proposal (Glacial Shrinkage of the Nepal Himalayas), SAFE review board recommended Survey Department of Nepal to revise and resubmit the proposal based upon the comments for next opportunity.
On the other hand, SAFE ongoing prototypes have achieved tremendous progress. Executors of six ongoing prototypings (Indonesia: Drought Monitoring, Sri Lanka: Sea Level Rise, Cambodia: Water Cycle Management, Lao PDR: Forest Monitoring, Sri Lanka: Fishery, and Pakistan: Water Cycle Management) reported the status of their projects. I look forward to having more reports with fruitful achievement in next SAFE workshop, reflecting suggestions and comments provided during this SAFE workshop. In this workshop, I recognize the importance of expanding SAFE prototypes from single-country projects to multiple-country projects (regional projects) and sharing knowledge. Also, it is necessary to explore international/regional funds available to encourage the SAFE prototyping efforts to work as a bridge to practical/operational uses in implementing countries.
One of the most important discussion topics of the EOWG at APRSAF-17 was the new APRSAF initiative in support of regional climate information needs – the APRSAF Regional Readiness Review for Key Climate Missions (Climate R3). The initiative has been endorsed and we are going to undertake its pilot phase in 2011. Also, in the session of GEO Global Forest Observations Initiative, we confirmed the role of satellite remote sensing in MRV (Measurement, Reporting, and Verification) and current contributions by space agencies.
The other important topic was the private sector initiative to support EO data utilization for a wider range of applications in the Asia-Pacific region. Delegates from private sectors presented how their business field was related to EO and how they might contribute to the APRSAF, especially for climate change mitigation and adaptation by using space technology. Continuous cooperation with private sectors is required to promote disaster monitoring as well as outreach and educational activities.
In addition, the joint session with SEUWG was held for the first time. There was constructive discussion during the session on the ISS (International Space Station) contribution to earth observation missions. We realize the value of ISS as EO experiment instrument platform and outreach and promotion system to show the value of earth observation from space (such as HDTV and astronaut observation). We have to continue close communication between SEU WG and EO WG to create new ideas for ISS EO applications.
Finally, I would like to express my deep thanks to all participants for their active involvement and contribution to SAFE workshop and EO working group and look forward to seeing them all at next SAFE workshop, next APRSAF EOWG, or any other opportunity.

Prof. Andrew Parfitt
Communication Satellite Applications Working Group (CSAWG) Co-chair
Pro Vice Chancellor and Vice President, Division of Information Technology, Engineering and the Environment, University of South Australia (UniSA)
It was a pleasure to co-chair the Communication Satellite Applications Working Group with Mr Kohhata of JAXA.
The CSA Working Group explored some interesting challenges associated with the adoption and sustainment of satellite communications technologies, both in the satellite systems and payloads themselves as well as in the services they provide on the ground. We were very pleased to hear the progress being made through the Wideband InterNetworking engineering test and Demonstration Satellite (WINDS) satellite experiments, and at the same time to hear the thinking of commercial satellite communications providers such as Intelsat, Sky Perfect JSAT, and Optus in relation to plans for future capacity and opportunities for hosted payloads. There are very important implications for cooperation between the commercial and government sectors in satellite communications, and I hope that future CSA Working Group can fully explore these to ensure that both applications and new technologies are fully supported in the medium to long term.
An emerging area of interest for APRSAF is GNSS, and in particular the prospect that the Asia-Pacific region will have the best accessibility to GNSS well into the future. This bodes well for positioning and navigation applications, and the coordination of GNSS services will provide a rich and fruitful area of collaboration that will benefit many nations and inspire many applications.
The CSA Working Group will continue to be successful if these collaborations, with very different models, can be fully exploited.
I will look with some interest at the progress made by future APRSAF meetings.

Mr. Hiroki Kohhata
Communication Satellite Applications Working Group (CSAWG) Co-chair
Senior Engineer, Satellite Applications and Promotion Center, JAXA
The Communication Satellite Applications Working Group, CSAWG, was held from November 23 to 24, 2010. Thirty participants from 6 countries and 2 international organizations gathered and held discussions concerning the use of satellite communications and satellite positioning within the Asia-Pacific region.
At first, in the "Communications Satellite System and Applications" sub-session, there were five presentations by space agency (JAXA), satellite operators (Optus, Intelsat, and Sky Perfect JSAT), and satellite manufacturers (Mitsubishi Electric Corporation). Their own satellite program and satellite fleet were introduced, and information on current market in the Asia-Pacific region and satellite applications was provided. The issue of technology transfer among the Asia-Pacific countries or from R&D to commercial was discussed. I would expect the discussion about technology transfer to continue in the next WG with active participation of private sector.
In the "Activity reports on the Communication Satellite Applications" sub-session, 11 presentations were made, 7 of which were related to the WINDS experiments and 4 of which were country reports. The WINDS satellite was operated for 2.5 years in orbit. Several kinds of experiments have been actively conducted in the Asia-Pacific region. Their findings and the expected achievements have been reported. On the other hand, new applications for remote weather watch and emergency communications were introduced by Australia and Chile. Moreover, micro and small satellite activities with communications payloads were introduced by Indonesia and Australia.
In advance of the CSAWG, the second Asia Oceania regional workshop was held and the "Asia Oceania Multi-GNSS Demonstration Campaign" was successfully established in the workshop. Against such a background, 4 presentations were made in the "Activity reports on the GNSS" sub-session. Successful launch of the first Quasi-Zenith Satellite (QZS-1) "MICHIBIKI", which is a Japanese first navigation satellite, its current status, and demonstration plan were reported by JAXA. The International Committee on GNSS (ICG) addressed expectations and endorsement of the campaign, and Australia's requirements and contributions regarding the Multi-GNSS were introduced. The second Asia Oceania regional workshop was also summarized by the secretariat of the workshop.

Prof. Graham Durant
Space Education & Awareness Working Group (SEAWG) Co-chair
Director of Questacon
It was a privilege to be invited to co-chair the APRSAF-17 Space Education and Awareness Working Group with Professor Takashi Kubota, and I greatly enjoyed meeting and working with the other Working Group members at the meeting in Melbourne. It was pleasing to note the friendship and collegiality between representatives of the different countries involved. The promotion of science education and awareness is a challenge for all countries, and we can all benefit through sharing ideas and expertise. JAXA is to be congratulated for providing the opportunity for such cooperative endeavor.
It was pleasing to see the growth in uptake of activities such as the water rocket competition as reported and the willingness to promote these activities further in different countries. From my perspective as a Science Centre Director and Board Member of the Association of Science and Technology Centers, I can see ways of promoting existing resources and extending space education activities through partnerships with the science center sector. Several Asia-Pacific science centers are already involved in water rocket activities and it would be fairly straightforward to encourage others to become involved through sharing of expertise and resources.
Other space education activities seem to be gaining support within the region and the opportunities to get students involved in making small satellites is an exciting endeavor.
With the tremendous amount of satellite-derived data now available there is a significant opportunity to use more data for educational purposes. This could involve the packaging of specific datasets to illustrate key aspects of Earth Observation as well as the provision of raw data to allow advanced students to take part in data analysis and discovery. The proposal for SEAWG and EOWG to work together to develop effective uses for satellite data for schools offers significant potential.
I would like to thank the conference organizers and administrators for their support in the lead up to APRSAF-17 and I look forward to working with SEAWG to further promote space education and awareness through APRSAF.

Dr. Takashi Kubota
Space Education & Awareness Working Group (SEAWG) Co-chair
Professor, Department of Spacecraft Engineering, JAXA/ISAS
The Space Education and Awareness Working Group (SEAWG) has promoted space education activities since 2001, with the aims of: effectively using space materials to enhance education for young people; providing education and training opportunities for young people in space science and technology; contributing to mutual understanding among countries in the region through exchange opportunities for young people; and increasing public awareness of the societal benefits and importance of space activities.
The SEA Working Group members met in Melbourne, Australia, on November 23 and 24, 2010, during APRSAF-17. The Working Group meeting was co-chaired by Prof. Graham Durant (Australia) and Prof. Takashi Kubota (Japan). Thirty-seven participants from 11 countries and 1 international organization attended the working group meeting this time, and we eagerly discussed how to promote space education. At the beginning of this meeting, the space education activities performed by each country in 2010 were so earnestly introduced that I wished we had more presentation time. I think we were highly stimulated by learning about each educational activity and could connect that to the next step.
The attendees of the WG meeting widely exchanged their opinions on the following items and confirmed the promotions for various kinds of activities.
Activities for primary and secondary school students and teachers, including water rocket convention, poster contest, space education seminar or forum, etc.
Effective use of satellite images for schools
Joint educational initiatives for university and graduate students and young professionals
Ways and means to effectively exchange space education materials
New and innovative funding sources to support space education activities
The world science center community and possible partnership activities
Review of the outcomes of the work of the Working Group
The 6th APRSAF Water Rocket Event was held in Cross Keys Reserve and the Victorian Space Science Education Centre (VSSEC), in Melbourne, Australia, on November 20 and 21, 2010, immediately preceding APRSAF-17, and hosted by the Space Policy Unit, the Department of Innovation, Industry, Science and Research (DIISR) of Australia, and the Victorian Space Science Education Centre (VSSEC) of Australia. Thirty-three students and 34 teachers and leaders from 13 countries participated in the water rockets event. In the course of orientation, students introduced their countries in their own ways, which created a very friendly atmosphere. At the convention, the competitors were interested in rockets produced by their opponents because of the differences in shapes and the way they had been made, even though same materials had been used; there was international exchange of thanks to that interest. We realized that we could truly practice space education through the use of these rockets. The participation of Peru was welcomed in the event for the first time, reflecting the expansion of the event to involve more countries in Asia and the Pacific, as well as that of Colombia and Peru from Latin America, contributing to promotion of inter-regional cooperation in space education by inviting countries from other regions to benefit from the successful educational initiatives undertaken by the Working Group.
Furthermore, the working group organized the 5th Poster Contest during APRSAF-17. The theme of the poster contest was "Space Technology to Help the Earth"; 23 posters made by children aged 8 to 11 years, coming from 9 countries, were on display during APRSAF-17. We reported in the plenary session on November 26 that an excellent piece of art had been selected by the participants of APRSAF-17. I was moved when some people impressed by the creativity of the children gave them great applause.
We confirmed in this meeting that we would all promote various kinds of popularization activities for space education through this working group.
Finally, I am deeply grateful to the staffs of DIISR and VSSEC who hosted this APRSAF-17 and side events, especially to the co-chair, Prof. Graham Durant and the WG member, Dr. Naomi Mathers, to the secretariat of SEAWG, Ms. Emiko Ando and Ms. Yayoi Miyagawa, and also to all the members of WG and the collaborators.

Dr. Kimberley Clayfield
Space Environment Utilization Working Group (SEUWG) Co-Chair
Executive Manager, Space Sciences and Technology
Commonwealth Scientific and Industrial Research Organisation (CSIRO)
It was my pleasure to join APRSAF-17 as co-chair of the Space Environment Utilization Working Group (SEUWG), and to welcome the delegates of the SEUWG to Australia.
This workshop provided an excellent opportunity for delegates from 7 countries to provide reports on their national activities in microgravity and parabolic flight research. Regional progress in the Space Seed for Asian Future Program was highlighted.
As co-chair, I was pleased to be able to report on Australian activities relevant to human activity in space, including spacecraft tracking, human health and nutrition, advanced materials, and robotics and sensor technologies. Presentations were also provided on Australia's work in the areas of space weather and orbital debris management.
Utilization of the space environment by humans is an exciting and inspiring aspect of space activity, and the SEUWG was pleased to co-host a joint session with the Space Education and Awareness Working Group, which saw more than 70 people attend a presentation by Japanese astronaut Naoko Yamazaki.
A joint session with the Earth Observation Working Group also enabled productive discussion on possible ways in which the International Space Station's Kibo module could be utilized to benefit the global community by providing Earth imagery capabilities, for example through the Hi-Vision EarthView Program.
The success of these joint sessions led to a recommendation for more such sessions at future APRSAF meetings.
Finally, I would like to acknowledge the efforts of SEUWG co-chair Mr Shigeki Kamigaichi, and thank all of the members of the Space Environment Utilization Working Group for their participation.

Mr. Shigeki Kamigaichi
Space Environment Utilization Working Group (SEUWG) Co-chair
Director of Kibo Utilization Office for Asia (KUOA), Space Environment Utilization Center, JAXA
The Space Environment Utilization Working Group (SEUWG) has discussed ways to facilitate effective joint utilization of the space environment among Asia-Pacific countries, since JAXA proposed the opportunities to use JEM (Japanese Experiment Module), nicknamed "Kibo," at APRSAF-12 in 2005. We have expanded the scope to general space environment utilization beyond ISS (International Space Station) /JEM utilization.
At the APRSAF-17 in Melbourne, the SEUWG meeting was held for 2 days on November 23 and 24. There were 30 participants from 16 organizations of 7 countries this time, and we lively discussed each activity and achievement.
JAXA reported the past one-year accomplishments of the space experiments on Kibo, which have been implemented in several kinds of fields, such as material science, life science, human research, astronomy, Earth observation, education, and arts.
Especially, continuous efforts on the student parabolic flight and the Asian seed project, the real challenge of JEM utilization, are welcomed.
LAPAN of Indonesia reported the JEM feasibility study on "The effect of space environment on gene expression of banana ripening" and a plan of developing a clinostat to support the experiment as well as other proposed simple space experiments.
KARI of Korea presented the Korean space activities and the progress of the feasibility study on "Kibo" utilization cooperation between JAXA and KARI.
NSTDA of Thailand reported the continuous activities of the student parabolic flight experiment as well as the Asian seed project.
ANGKASA of Malaysia reported several activities on space environment utilization focusing on education and promotion to scientists and public. They also talked about the current cooperation with JAXA on the student parabolic flight experiment, protein crystallization experiment in space, and the Asian seed project.
VAST of Vietnam submitted a report on their activities and ideas.
In addition to these reports from space agencies of each country, several reports were presented at the WG from participants, including: (1) status update of the Kibo Hi-vision EarthView system by JSF (Japan Space Forum), which will be onboard and be available in 2012, (2) space weather monitoring and forecasting by Dr. Wilkinson from the Australian Bureau of Meteorology, (3) a unique space heritage concept by Dr. Gorman from Flinders University, and (4) JAMSS (Japan Manned Space Systems) activities and its results as the Japanese non-profit organization and private sector.
Following these presentations, many SEUWG participants exchanged views on how to promote the space environment utilization in the Asia-Pacific region, and how to realize the joint utilization of "Kibo" among SEUWG participants.
All participants concluded that they would further encourage activities stepping toward "Kibo" utilization in a step-by-step manner through the interactive taskforce team that has been continuing in the last years and has made a progress such as Asian seed project materialize.
I would also like to point out the success of the joint sessions with SEAWG and EOWG. Ms. Naoko Yamazaki, JAXA astronaut who was a part of the recent space shuttle flight mission, presented her experience at the ISS/Kibo, and participants of SEAWG and SEUWG shared the ideas of educational activity. The educational experiment opportunity by the next Japanese astronaut S. Furukawa in 2011 was proposed in these two WGs. With the Earth Observation WG, utilization of the ISS/Kibo for Earth observation was discussed and the possibility of ISS contribution to wild fire detection was recognized. Both WGs agreed to continue the effort toward implementation.
Finally, I am grateful to Dr. Kimberley Clayfield, co-chair, Executive Manager, Commonwealth Scientific and Industrial Research Organisation (CSIRO) Space Sciences & Technology and all participants of the Space Environment Utilization Working Group for their help.