Interview with Mr. Jigme Thinlye Namgyal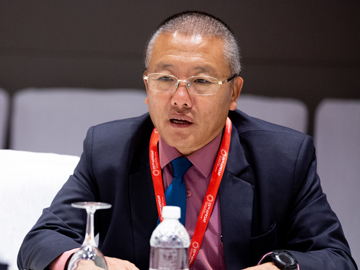 APRSAF Secretariat
Please introduce the role of the Department of IT and Telecom.
Mr. Jigme Thinlye Namgyal
We are very new to Space and the business of space.
We started with a small satellite working group. The satellite working group was formed to carry out research on the potential use of space technology in Bhutan.
At the 18th SAARC Summit, the Indian Prime Minister announced that India would launch a SAARC satellite for use by SAARC member countries. It was indicated that India could provide each SAARC country with one transponder, however ground infrastructure would have to be established independently. The usage of the transponder was discussed and it was acknowledged that capacity is an important issue in space technology. For that reason, we sent students to Kyutech (Kyushu Institute of Technology) to study for two years and six months. We have 4 students there; 2 women and 2 men to receive a masters degree in space engineering.
Since space is a new initiative, the government decided to have an in-house small division and the division of telecom and space was created. It is now the main department responsible for the coordination of space related activities and course requirement curriculum support.
Our engineers made the first satellite for Bhutan which was launched successfully in collaboration with Kyushu Institute of Technology and JAXA.
APRSAF Secretariat
Are there any Space Development Activity programs and/or schedules planned for the future?
Mr. Jigme Thinlye Namgyal
We do not have any space development activities planned as of now, but of course we would like to grow as a program. The Bhutan-1 is but the first satellite in the series.
Therefore, there are currently plans to work with agencies like ISRO and JAXA.
Two engineers from the Department of IT & Telecom were selected to undergo eight weeks of CubeSat design and development training in India at ISRO. They will receive hands-on training to build a CubeSat. In this way, with the support of our well wishers and partners, we would like to continue to grow.
It is my hope that it will be realized.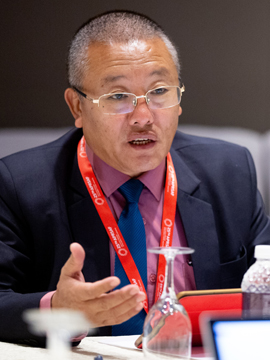 APRSAF Secretariat
We have 4 working groups; Satellite Applications, Satellite Technology, Space Environment Utilization and Space Education.
Which working group are you interested in?
Mr. Jigme Thinlye Namgyal
A little bit of all the working groups. This year will be the first time to participate and we must learn everything because we have to understand in advance what we need to work on. All the working group sessions will be held and participated in at the same time.
Satellite Applications, Satellite Technology, Space Environment Utilization and Space Education are all very important.
We are trying to understand what we can be learned here and each participant from Bhutan is trying to attend all the working groups. Once we initiate satellite production, all the applications will be very important for us.
Currently, we do not have any trained personnel in our country, especially in space technology and space science. That is why we are taking the first steps now. As we obtain more training and continue to train, we will have people dedicated to each platform component segment.
APRSAF Secretariat
For the applications, have you ever applied satellite data?
Mr. Jigme Thinlye Namgyal
The focus of our department is the satellite and we have been utilizing satellite applications across the sectors of  communications, meteorology, and broadcasting to name a few. In particular, we are putting strength into disaster communications using satellites because we are geographically located in a sensitive area due to the young Himalayan mountain range. Our country is concerned with natural disasters such as earthquakes, river swelling, floods and GLOF. Monitoring of the environment, forest fires, glaciers and so on must be done. For these reasons, our focus is on disaster management. Another area of study is seismology. Work will be done on how sensors should be utilized and how the communication satellite should be navigated in order to predict earthquakes.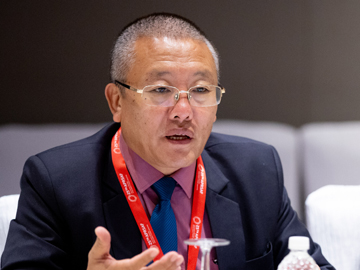 APRSAF Secretariat
What expectations or requests do you have of APRSAF?
Mr. Jigme Thinlye Namgyal
We have many expectations and requests because we are very new to the area of space and satellites. There are many scientists in the APRSAF working groups and our participants are learning and acquiring new knowledge from the working groups, so that we are able to do the best of our ability. As we do not have much knowledge about space technology, it is a good platform for us to learn and network.
This is why we are interested in this program and the information obtained will be used for our space program and the sustainability of Bhutan. In this way, it is very important to create a community for space and satellites in our country. We will send people from the fields of science and academia who have shown an interest in space to the conference. Their purpose will be to increase working functions for areas such as disaster management, natural resource management and forestry. It is in hope that the usage of space technology will help to solve various issues and will be continued to be studied for  the future.
On November 6, 2018, I listened to a presentation on nano satellites by the University of Tokyo. It was very exciting and I felt that this new nano satellite technology will be very useful for us.
We would like to establish relations with institutions such as ISRO, JAXA as well as universities. For space initiatives and sustainability, it is vital to involve the universities.
I received many interesting perspectives from the presentation by Professor Shinichi Nakasuka of the University of Tokyo. Therefore, I am most interested in nano satellites including solar panels. There are so many new initiatives like CanSat and I will ask students to join the groups.
We will soon be commissioning the South Asia Satellite Earth Station in Bhutan. It is almost ready and we will use the transponder for disaster communications, digital broadcasting of television and radio, connectivity to remote places and for domestic and international backup connectivity.
JAXA is very important to us. Our first satellite BHUTAN-1 was launched through Kyutech's collaboration with JAXA. There is much to learn from the universities such as the University of Tokyo on areas like how to deploy sensors and how to maintain transistors. Creating  groups in universities is also very important. We have also found the UNISEC science group to be most impressive. That is why we are trying to attend the international conference relating to space, to learn and become capable. APRSAF is very important for us as we can learn about so many advanced technologies. We will strive to learn a lot and find the right people and applications.
We are responsible for space development and in the near future, creating space policies that are within international standards.