Space Applications Working Group
Objectives
Space Applications Working Group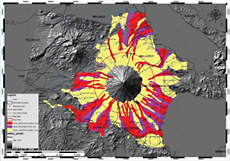 Mayon Volcano Lahar Hazard Map
The Space Applications Working Group (SAWG) discusses various space application topics that support socio-economic issues in the Asia-Pacific region, such as disaster management and environmental issues, through the use of space technology (Earth observation, communication, and navigation). The WG aims to approach regionally common issues while strengthening cooperation among space agencies, user government agencies, development aid agencies, and the private sector. As a result of the discussions in the WG, concrete international cooperative activities such as Sentinel Asia for disaster management (from 2005), Space Applications For Environment (SAFE) for environment monitoring (from 2008), and Regional Readiness Review for Key Climate Missions (Climate R3) for addressing climate change (from 2011 to 2014) were launched.
Activities
Discussed and shared information on space applications, including the new topic of the synergistic use of space capabilities and ground segment activities with ICT, focusing on strengthening partnership with development aid agencies and the private sector.
Reported by participating agencies on the good progress of the activities of initiatives created through the WG and discussed their future direction.
Promotion of the activities of Sentinel Asia
Promotion of the activities of SAFE
Following the successful completion of Climate R3, establishment of an ad-hoc task team under SAWG was included in the APRSAF-21 Recommendations to scope a potential new APRSAF initiative involving synergistic applications of geostationary orbit (e.g. Himawari-8) and low Earth orbit satellites (e.g. GCOM-C) with multi-GNSS and ICT.
News and Updates