APRSAF-13 Side Events(Jakarta, 5-12 December)
APRSAF Poster Contest
"School children present their posters at APRSAF annual meeting in Jakarta":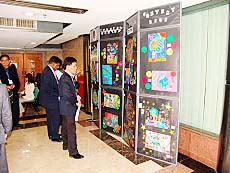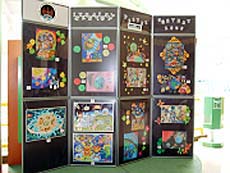 The school children at the age between 8 and 11 years old from four Asian countries had their posters on display at the thirteenth session of the Asia-Pacific Regional Space Agency Forum, known as APRSAF-13. Under the theme entitled? "Importance of Space", Indonesia, Japan, Sri Lanka and Vietnam participated in the first Poster Contest held by APRSAF. Each country selected the three best posters through a national contest for submission for the final selection during APRSAF-13. Ms. Kaede Ando of Japan received APRSAF Best Poster Award. Mr. Tsubasa Fujita of Japan and Ms. Do Dieu Linh of Vietnam received APRSAF Special Poster Awards.
The next APRSAF Poster Contest is planned for the fourteenth session of APRSAF in 2007. The next Contest will contribute to the global celebration of the World Space Week by sharing the theme of the poster contest of the latter to be announced.
APRSAF Water Rocket Event
"Students from Asian and Pacific countries gather to share the excitement of water rocket launch":

The junior and senior high school students from thirteen countries in Asia and the Pacific were in the limelight in Jakarta as they competed in launching their water rockets at Archipelago at Taman Mini Indah Indonesia (TMII) on Saturday, 9 December.
29 students at the age between 11 and 18 years old selected through national competitions held in Australia, Cambodia, China, India, Indonesia, Japan, Malaysia, Philippines, Republic of Korea, Singapore, Sri Lanka, Thailand and Vietnam, spent three days together in Jakarta, learning about space science and technology and expanding the friendship by sharing their knowledge and skills of making and launching water rockets during the APRSAF Water Rocket Event. The Event was held from 7 to 9 December and co-organized by the National Institute of Aeronautics and Space of Indonesia (LAPAN), Science and Technology Center (PPIPTEK) at TMII, Ministry of Education, Culture, Sports, Science and Technology of Japan (MEXT) and Japan Aerospace Exploration Agency (JAXA).
The participating students shot their water rockets toward the target line, 56 meters away from the point of launch. The further the rockets landed away from the target line, less points were given. Each student was given three chances to launch their rockets. Strong wind on the day presented challenges to determine the best direction and angle for launch as well as the amount of air to be pumped into the rocket.
Mr. Tze Chow Fong from Singapore led the competition. Scoring 260 points out of 300 points, the highest possible score in total, Mr. Tze Show Fong won the first place. Mr. Arciaga Michael from the Philippines, Mr. Alfred James from Australia and Ms. Sarina Mustafa from Indonesia followed, scoring 200 points. Through play-offs, Ms. Sarina Mustafa won the second place, and Mr. A. James won the third place.
The competition enjoyed the attendance by 700 spectators, and the media coverage by fourteen local television and radio stations as well as newspapers.
During the Water Rocket Event, a seminar was also held on 8 December for the accompanying teachers and instructors to share experience and exchange information on how they are promoting water rocket activities in their countries. The seminar resulted in creating a network of 25 teachers and educators as well as space experts from thirteen countries and two international organizations to make continuous efforts to enhance and expand water rocket activities for educational purposes.
APRSAF Space Education Seminar
"School teachers in Jakarta encounter space education and interact with space experts":
About 50 high school teachers in Jakarta spent two days at PPIPTEK encountering space education and participating in interactive discussions with space experts during the Space Education Seminar on "Space Science and Technology and Their Applications", held from 11 to 12 December.
Hosted by PPIPTEK and co-organized by United Nations Educational, Scientific and Cultural Organization (UNESCO), LAPAN and JAXA, on behalf of APRSAF Space Education and Awareness Working Group, the Space Education Seminar provided the opportunity for the first time for the participating teachers to learn what space education is all about.
Deputy Minister for Utilization and Dissemination of Science and Technology of Indonesia , H.E. Dr. Idwan Suhardi, officially opened the Seminar. On the second day, the participants had an opportunity to meet State Minister for Research and Technology of Indonesia, H.E. Dr. Kusmayanto Kadiman, who visited PPIPTEK.
The programme featured lectures by the following fifteen countries and international organizations on remote sensing and applications, space technologies for disaster management, space science and astronomy, as well as educational materials and activities using space materials: Australia, Bangladesh, India, Indonesia, Japan, Philippines, Sri Lanka, UNESCO.
The teachers and the speakers had interactive discussions on how to make it more interesting for the students to learn about remote sensing applications and physics. Lively discussions also took place to examine opportunities and challenges of using space technologies to predict natural disasters and to mitigate their impacts on the socio-economic development. The teachers actively took part in launching "petit" rockets using ethanol or bubble-creating bath tablets as well as water rockets.
Photos
Rocket Making Scenery at PIPTEK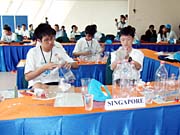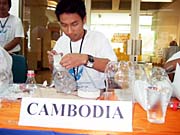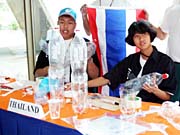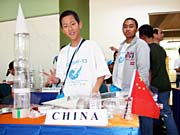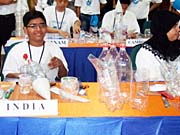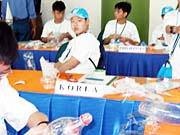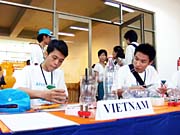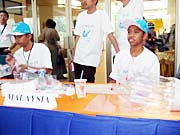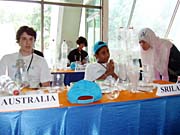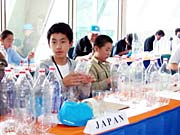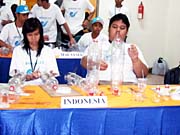 Rocket Launch Site and Ceremony at MII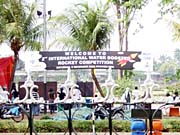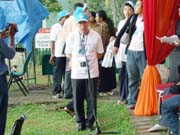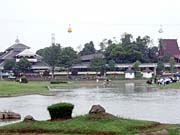 Opening Address of Prof. Oyama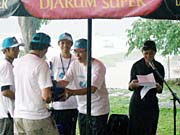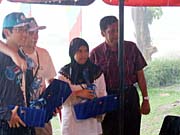 1st, 3rd, 2nd prize from the left
Poster Contest