New Year Message from the APRSAF member's countries for activities in 2010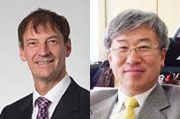 New Year Message from the Australian Government
- Dr. Michael Green
General Manager
Innovation and Space Branch
Department of Innovation, Industry, Science and Research
During 2009 the Australian Government established a Space Policy Unit (the Unit) and the Australian Space Research Program (ASRP).
The Unit was established within the Department of Innovation, Industry, Science and Research and will act as a central point of contact and coordination for all of Australia's civil space activities. The Unit will administer the ASRP, in addition to being responsible for developing a National Space Policy and supporting the work of the Space Industry Innovation Council.
The ASRP is a merit-based grants program designed to support space-related research, education and innovation activities. International collaboration is encouraged under the program. The first round of the program opened for applications on 19 October 2009 and closed on 4 December 2009. Successful projects will be announced early in 2010. It is anticipated that four selection rounds will be held on a bi-annual basis and that the next round (Round 2) will be held in March/April 2010.
In 2010, the Unit, in consultation with key Australian Government agencies, will develop a comprehensive National Space Policy, covering Australia's use of space (civil and defence/national security). The policy will provide strategies to enable Australia to address its national priorities through space and be shaped to encourage the growth of our niche capabilities.
In July 2009, the Australian Academy of Sciences and the Australian Academy of Technological Sciences and Engineering presented An Australian Strategic Plan for Earth Observations from Space. The Plan examines Australia's current Earth Observation from Space (EOS) uses and activities, as well as future needs and opportunities over the next fifteen years. It also outlines a proposed coordinated strategy for meeting Australia's future domestic EOS requirements and international obligations. The Unit proposes to consider the Plan's recommendations in developing a National Space Policy.
In 2008, the Australian Senate Economics Committee conducted an inquiry into the Current State of Australia's Space Science & Industry Sector. The Australian Government tabled its response to this report on 19 November 2009 (http://www.innovation.gov.au/Industry/Space/Pages/SpaceResponse.aspx). A key part of the Government's response was the creation of the Space Industry Innovation Council (Space IIC). With the support of the Unit, the Space IIC will examine Australia's current civil space activities, risks and strategic priorities with a focus on Earth observation, satellite communications and navigation.
The Australian Government, through the Space Policy Unit, is keen to be more involved with the activities and work of APRSAF and will devote significant resources during 2010 to this pursuit.


New Year Message from KARI, Korea
- Dr Hwang, Director of the Policy, Planning and International Relations Division
We had several important events last year having been the 20th anniversary of the establishment of the Korea Aerospace Research Institute (KARI).
We celebrated the completion of our first space launch site in Goheung, South Jeolla Province, where the country's first space rocket was launched last August. With the completion of the Naro Space Center, Korea has become the world's 13th nation equipped with rocket launching facilities. The 5.11 million-square-meter space center houses a launch complex including a launch pad and an erector, a launcher control center, a flight safety center, an electro optical tracking system, a weather forecast center and educational facilities.
We launched a 140-ton Korea Space Launch Vehicle-1 (KSLV-1, named NARO) on Aug. 25 in cooperation with Russia, although we experienced a problem in the fairing assembly at the tip of the rocket. The second launch should take place by June in 2010 in accordance with a deal signed with Russia's Khrunichev State Research and Production Space Center.
The 60th International Astronautical Congress (IAC) was held in Daejeon, South Korea, aiming to promote sustainable growth and the peaceful use of space. The five-day(12-16, Oct) IAC brought together over 4,000 scientists, businessmen and government policymakers from 72 countries.
In the new year, we aim to place our first weather-communications satellite in orbit in the first half of the year to gather ocean and meteorological data. The satellite will be placed in a geostationary orbit 36,000km from Earth and will be equipped with a multi-spectrum camera and sensor array that can help monitor typhoons, ocean temperatures, the movement of dust and cloud formations. The information will be used to advance weather forecasts and detect worldwide climate change.
Another satellite, called the KOMPSAT-5, has been built in cooperation with local companies and Italy's Thales Alenia Space and is undergoing tests for launch in late 2010. This satellite is equipped with a Synthetic Aperture Radar(SAR) that can scam the planet's surface in bad weather conditions and through clouds.
We look forward to continued cooperation to strengthen our relationship with all APRSAF members.
Best wishes for the prosperity of APRSAF!
KARI Website: http://www.kari.re.kr/