APRSAF-20
The 20th Session of the Asia-Pacific Regional Space Agency Forum(APRSAF-20), Hanoi, Vietnam, December 3-6, 2013
Registration/Visa/Accommodation
For inquiries, please contact at aprsaf20

aprsaf.org


Registration
The website for online registration is now open at the following URL address:
https://www.prime-pco.com/aprsaf20/registration.html
Kindly note that the deadline for online registration is Thursday, October 31, 2013.
The location and opening hours of the registraion desk is found in the finel announcement Appendix B.
Please note that all participants are required to bring and submit a copy of his/her passport to the Registration Desk for security reasons.
New Cooperation Session
The APRSAF Executive Committee (ExCom) is interested in exploring opportunities for further space related cooperation. Therefore, ExCom would like to make a broad call for proposals on cooperation ideas not currently being addressed in APRSAF Working Groups. To make a ten-minute presentation at this session, submit the title, keywords and summary of the cooperation proposal when registering online for APRSAF-20.
Date: 3 December 2013
Venue: Melia Hanoi
Contact for further information: APRSAF Secretariat
E-mail: aprsaf20

aprsaf.org FAX: +81-3-5209-3208
Visa Information
It is important for those participants from overseas to check their visa requirements for entry into Vietnam. It is strongly recommended that you contact, as soon as you can, the Embassy or Consulate of Vietnam in your country to ascertain whether or not you require a visa and to check details of visa requirements, if any. Please note that it may take a few weeks to obtain a visa following the submission of visa application.
List of Vietnamese Missions Abroad:
http://www.mofa.gov.vn/en/bng_vietnam/dscqdd/ns050119142406
Exemption Of Entry Visa To Vietnam:
http://lanhsuvietnam.gov.vn/Lists/BaiViet/B%C3%A0i%20vi%E1%BA%BFt/DispForm.aspx?List=dc7c7d75-6a32-4215-afeb-47d4bee70eee&ID=306
Before applying for the Visa, please make sure that you have a passport that is valid for at least 6 months counting from the date of arrival in Vietnam.
We should like to note that any cost involved in obtaining the visa should be borne by the participant concerned.
Any participant who requires an invitation letter from the local organization in Vietnam for visa application purposes should provide needed information when registering online for APRSAF-20.
Should you have any inquiries, please contact:
APRSAF Secretariat
E-mail: aprsaf20

aprsaf.org FAX: +81-3-5209-3208 or
Dr. Dang Quang Hung (cc: Ms. Vo Thi Lan ANH)
International Cooperation Department, VAST
18 Hoang Quoc Viet, Cau Giay, Hanoi, Vietnam
TEL: + 84-4-37-564607
E-mail: banquoctevast

gmail.com, dqhung

vast.vn, vtlanh

sti.vast.vn, vtlananh80

gmail.com
Accommodation
APRSAF participants can take advantage of special rates at Melia Hanoi (venue of APRSAF-20).
Melia Hanoi
44B Ly Thuong Kiet Street 01235, Hanoi, Vietnam
Deluxe Room: VND 2,415,000 ++ (US$ 115.00 ++)
(per person per night, including breakfast and internet)
-VND 420,000 ++ (US$ 20.00 ++) supplement for Double Occupancy
-The above rates are quoted in Vietnam dong (equal to US Dollars) are subject to 5% service charge & 10% VAT.
General Conditions:
- In order to avoid two nights penalty charge, the reservation must be cancelled before 72 hours (Hanoi time) prior to arrival date
- No show will be charged for the whole duration stay reserved
- Duration of the stay will be re-confirmed by guest upon checking in, other wise, shorten stay will be charged for the whole duration stay reserved
The above rates will be applied to those who have completed registration by October 31, 2013.
After completing the registration (https://www.prime-pco.com/aprsaf20/registration.html), please access the following URL and fill out the required information.
URL: www.melia.hanoi.vn
Please enter a discount code for the reservation: aprsaf20
The following 2 hotels are located near the venue of APRSAF-20. Both hotels are within walking distance of the venue.
A. HOA BINH
27 Ly Thuong Kiet Street, Hoan Kiem Dist, Hanoi, Vietnam
http://www.hoabinhhotel.com
Room price: US$50.00~ , including breakfast, wifi internet and 5% service charge
B. MOEVENPICK
83A Ly Thuong Kiet Street, Hoan Kiem Dist, Hanoi, Vietnam
http://www.moevenpick-hotels.com/en/asia/vietnam/hanoi/hotel-hanoi/overview/
Room price: US$105.00 ~, including breakfast and 5% service charge
Special rates are available for APRSAF participants at each hotel if reservation is made via a local travel agent. A hotel reservation form can be downloaded here.
Please note that each participant is responsible for making or cancelling room reservation directly with the hotel concerned. The APRSAF-20 Secretariat cannot take any responsibility associated with your room reservation.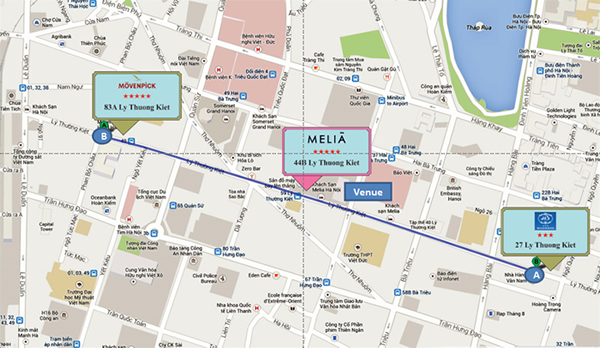 Cultural Tour
A cultural tour will take place on the afternoon of December 6. To participate in the tour, please select "will attend" when registering online for APRSAF-20.
Tour Description
Date: 6 December 2013
Destination: Vietnam Museum of Ethnology(Website / Brochure)
Time:14:00-17:00 hrs.
14:00

Departure from Melia Hanoi to Vietnam Museum of Ethnology
14:45-17:00

Guided tour in Vietnam Museum of Ethnology
17:00

Back to Melia Hanoi
International and Local Transportation
Please note that the participants are responsible for making arrangements and covering the cost for their international travel to and from Vietnam as well as for the local transportation, including the one between the airport and the hotel and between the venue of the APRSAF-20, Melia Hanoi, and any other hotel. Local transportation will not be provided by the co-organizers.
Information on the access to and from the Noi Bai International Airport is available on the following website: http://www.vietnamonline.com/transport/hanoi-airport-han.html
Please refer to "From Noi Bai Airport to city center" part for more information.
Insurance
Participants are highly recommended to arrange for their own overseas travel insurance. The organizers of the APRSAF-20 are unable to take any responsibility for making arrangements or covering the cost that might be incurred in association with any possible accident, injury and illness.
Points of Contact for APRSAF-20
Participants from Vietnam should contact the local point of contact mentioned below to obtain more information concerning their participation.
For participants from Vietnam:
If you have any inquiries concerning the APRSAF-20, please contact:
Prof. Doan Minh Chung
Space Technology Institute/Vietnam Academy of Science and Technology (VAST)
18 Hoang Quoc Viet, Cau Giay, Hanoi, Vietnam
Phone : +84-4-37562942 Website URL : http://www.vast.ac.vn/en/
E-mail: dmchung

sti.vast.ac.vn; vtlanh

sti.vast.ac.vn
For participants from other countries:
If you have any inquiries concerning the APRSAF-20, please contact:
Ms. Mami Sasamura, APRSAF-20 Secretariat
c/o Japan Aerospace Exploration Agency (JAXA)
ochanomizu sola city, 4-6 Kandasurugadai, Chiyoda-ku, Tokyo, 101-8008, Japan
E-mail: aprsaf20

aprsaf.org or FAX:+81-3-5209-3208