Interview with the President of AIT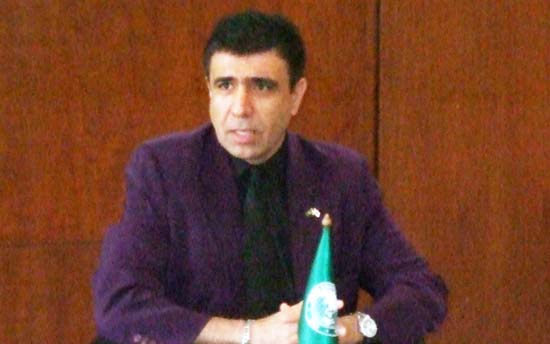 The APRSAF Secretariat visited Asian Institute of Technology (AIT) to make an interview with Dr. Said Irandoust, President of the AIT. The President Irandoust talked about AIT space related activities.
1) What are some of the space technology activities of AIT planned for 2008?
President Irandoust:
"Humankind's problems today are global, and we must therefore, have an international perspective in all our activities. Research and higher education are not only about increasing competency within some discrete knowledge fields. They are also about cultural differences as a source and potential for creation, innovation, critical thinking and development.
Research and Education: Remote Sensing and GIS field of study
" AIT's orientation is based on education and research towards the sustainable development of the region, strengthening the knowledge, development and business capacity of the region, and supporting communities and their economic development and integration into the global economy.
" To this end, it is important for AIT to have its own distinct profile in certain strong niche areas ... such as space technology, including remote sensing and Geographic Information Systems.
" In developing the capacity of Asian scientists in remote sensing and GIS, we are providing opportunities for 60 Master's and PhD students to advance their knowledge in RS and GIS.
" JAXA has seconded two staff, to AIT: Professor Kibe (of Japan) and Professor Lal Samarakoon (of Canada). Since the beginning of this year, Professor Lal Samarakoon has assumed responsibility for Capacity Building activities of JAXA in Asia through AIT.
"Our Geoinformatics Center is now carrying out a capacity building program on Poverty Mapping sponsored by ASEAN Foundation through its Japan Solidarity Fund. The total budget is about US$ 280,000 ... to train at least 20 participants from 10 countries for 2 years, and this began on 1st October 2007.
" Such collaboration has gone on since 2001."
" In terms of training ...
" The aim of our training center at AIT is to create training opportunities for the organizations working in the Asia-Pacific region to help in capacity building in remote sensing and GIS and their applications.
" This mission is achieved through following activities:
* Regularly conduct international training programs in GIS and its related fields targeting three levels: technical level, professional level, and executive level (decision makers)
* Design and develop training courses and materials relevant to the problems of the Asia-Pacific region
* Create a network of professional of GIS and its related fields in the Asia-Pacific region
* Render consultancy services to the government and non-government organizations on application of GIS and its related technologies.
" In this regard, AIT recognizes the support of JAXA in sending personnel as well as providing about US$ 300,000 in funding on an annual basis to train the technicians in the Asian Region, with the collaboration of AIT."
2) What is AIT's contribution to Asia Region?
President Irandoust:
"AIT does not operate as a regular national university. Instead AIT is a network university with several owners which all have a shared interest; recruiting students and researchers from the whole region and also beyond. Currently, there are more than 200 sponsored projects with more than 600 research and support staff from 30 countries. It is in this context that AIT works in close interaction with other Japanese bodies dedicated to the advance of science and technology ... such as the Japan Science and Technology Agency.
"We place a strong focus on the needs of stakeholders and the importance of involving colleagues from the private and public sectors, from national research institutes, and from other academic institutions are important steps. This will also facilitate the more rapid identification of emergent fields of knowledge of high relevance for Asia.
" Linking universities and other research institutes with private sector and communities, with strong partnerships among them is crucial. I strongly believe in the need for research work having high relevance to the national and regional users, including the development of efficient, low-cost, adapted technologies. The focus should not only be on the technologies and processes but also on their implementation. It is crucial to deal seriously with the barriers to the implementation of new technologies in order to enhance the quality of life and strengthen economic development of the region. All these will require AIT to further develop itself as a strong, focused, collaborative and entrepreneurial institution.
" We also recognized that the advancement of multilateral joint research with Asian countries is a vital part of efforts to address the critical issues facing the region.
"For this, AIT feels itself to be well placed, as we place great value on strengthening regional and global institutional bonds, collaboration and research. AIT's half-century of international experience at the service of the development of the region, its established brand name, its international pool of experts in development, and its strong networks of partners in the region and in the world make it a unique partner for scientific development of the Asian region."
3) What is expectation about Progress of Space Activities in Asia Region?
President Irandoust:
"Let me answer that in two parts:
"First, in regard to space communications, AIT would like to expand its mandate to educate people all around this vast region ... and beyond ... in using advanced communication satellites to provide high-level educational courses via the Internet, and in the process participate in the opening up of education all across the Asian Region, in real time and online.
"Second, we at AIT would like to become more involved in the use of earth observation data for sustainable development and disaster prevention and mitigation applications.
"For example, during a flood, satellite imagery could help provide (in a timely manner) the necessary data on the flood water movement. We foresee similar applications having great efficacy with regard to forest fires and other forms of natural disaster that appear to be happening with greater frequency and intensity in Asia."
4) Can you offer your thoughts on AIT's expectation for Cooperation with APRSAF and Sentinel Asia?
"My understanding of Sentinal Asia is that it is an initiative of JAXA intended to provide satellite data for disaster mitigation applications.
"In this context, AIT would like to be involved with Sentinal Asia activities by providing appropriate technological know how to space agencies of participating countries.
"Providing data is always good, but I do also believe that there is a need to educate the users of the many countries of Asia (except perhaps a few of the more technologically advanced countries such as Japan) on the appropriate use of satellite data for disaster mitigation applications.
"In this regard AIT has globally competitive Master's and Doctoral programmes (conducted in English), as well as a renowned interdisciplinary disaster management program and excellent short term courses on offer.
"APRSAF is a reservoir of advanced knowledge and expertise in the field of space-related agencies in Asian countries.
"AIT participation here could help in terms of teaching applications. As we are one of Asia's leading centres of research and teaching, we see ourselves as having a role to play in terms of addressing some of the educational needs.
"Ultimately, APRSAF is a platform that offers an excellent means for the Asian Institute of Technology to participate in the field of space education for Asian and beyond."
Thank you