Interview with Geo-Informatics and Space Technology Development Agency (GISTDA)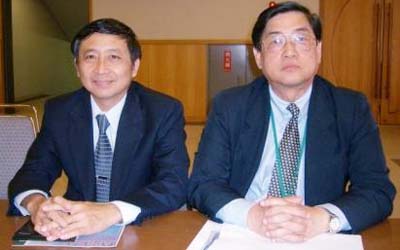 On June 3, 2008,
APRSAF secretariat made interviews with Dr. Thongchai Charuppat, Director of the GISTDA (Right) and, Dr. Surachai Ratanasermpong, Deputy Director of the GISTDA (Left).
Use of Satellite Data in Thailand
(Dr. Thongchai) GISTDA role as data provider, satellite data service has been evolved from satellite data users in Thailand. At present GISTDA provides services for both domestic and international customers. The data have been received from satellites owned by various countries such as LANDSAT, RADARSAT-1, SPOT 2, 4 and 5, ALOS, and MODIS and in the near future our ground receiving station will be upgraded to directly receive MODIS and RADARSAT-2. In the end of 2008, the role of data provider will be enhanced by the launching of THEOS, the first Earth Observation Satellite of Thailand and GISTDA will be in a better position to serve the country and its region by contributing and sharing data.
For space applications program, GISTDA has carried out various space-based thematic areas of disaster risk reduction, natural resources and environment management. GISTDA joins related government agencies, in developing the use of satellite data for the mutual interests of the country. One good practice is a product of e-Flood Map which consists of reports, pre- and post- satellite images such as LANDSAT, SPOT, RADARSAT, ALOS and flooded areas. The maps are often updated and other relevant government agencies can access them through GISTDA's web page. This information can be served in a long term as a crucial tool for monitoring, mitigation, rehabilitation and compensation for affected people. In the near future, Thailand will be able to support Sentinel Asia by providing data from our own satellite.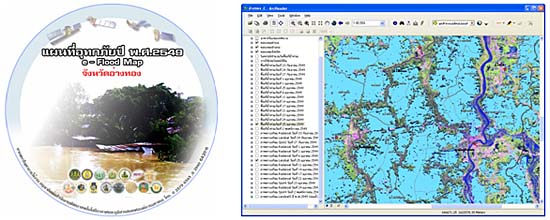 e - Flood Map of 38 Provinces
Educational Program in Thailand
(Dr. Surachai) GISTDA annually organizes about 20 training, including basic course, intermediate course and advanced course. These are open to anyone but are mostly attended by government officers. The fees of training courses are reasonable because GISTDA is non-profit organization. These courses are composed of remote sensing, GIS and GPS. Around 30 trainees join each course due to the limitation of space and facilities. Some government agencies request GISTDA to conduct the specific courses in certain areas of application such as the Department of Water Resources, Department of Livestock.
In addition, we have programs for the school children, such as youth space camp to promote pupils' awareness about space and geo-informatics technology. GISTDA also collaborates with five geo-informatics and space technology regional centers to conduct this activity in regional Thailand. At the beginning, the youth space camp is for two days, but now extends to three days so the pupils and their teachers can stay for two nights. So far, seven youth space camps were already performed with total of 1,750 participants including both pupils and teachers. We are really satisfied with the results because most of the pupils were happy with the space camp activities and got more knowledge in space and geo-informatics technology.


The 6 th Youth Space Camp in Prachuab Kirikhan Province, central Thailand.
We will also start a caravan campaign using a minivan equipped with facilities like computer, antenna,
Internet connection, and GPS. Once the minivan is completely furnished we will start visiting many schools around Thailand. I think it would be interesting and exciting for the pupils in the remote areas. They will be able to see the satellite images being transmitted almost in real time.