Interview with Malaysia's national space agency (ANGKASA)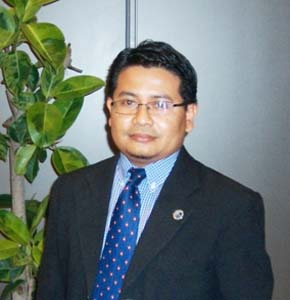 On June 2, 2008,
APRSAF secretariat made an interview with Mr. Wan Zainul Azam Bin Khamid, Director of the Management Services Division, ANGKASA.
Purposes and Meanings of Space Program in Malaysia
The space program is very important to us, especially as we are a developing country. In exploring the space program, we can also contribute to spin-off technology, for example, our astronaut suits were originally used as firefighter suits or Formula One suits. We can also stimulate young minds. The space program cultivates people from a young age. Last year, we sent the first Malaysian astronaut, called Angkasawan in Malay, to space and he returned to the Earth. Now we are promoting space science in schools and universities, including children as young as five or six. In future, we plan to send more microgravity experiments to the ISS. We sent an experiment with our first astronaut, and we are now waiting for the results.
ANGKASA
The Space Science Studies Division (BAKSA) and one of its facilities, the planetarium, were merged together and became ANGKASA, the national space agency in 2003. ANGKASA has four facilities, which are the headquarters, the planetarium, a research facility which is an observatory, and the national space center. The planetarium is responsible for space education programs and developing space curriculum. The national space center operates and controls satellites and also has a satellite testing facility which is under development.
Relationship between ANGKASA and MACRES
MACRES, the Malaysian Remote Sensing Center, is responsible for space application and technologies.
ANGKASA, as the national space agency, is responsible for providing guidelines on space development and the aerospace industry. BAKSA was under the prime minister's office, but ANGKASA and MACRES are under the Ministry of Science Technology and Innovation, also known as MOSTI.
Status of RAZAKSAT and Future Plans
RAZAKSAT was developed by a Malaysian company called ATSB and a South Korean company called SATREC. It was completed two years ago and we are waiting to launch it. We will most likely launch RAZAKSAT sometime in October 2008. After RAZAKSAT, we plan to develop and launch a communication satellite to go in geostationary orbit. However, since our budget is limited, we will have to wait.