Interview with Dr. Thongchai Charuppat, Advisor, Geo-Informatics and Space Technology Development Agency (GISTDA)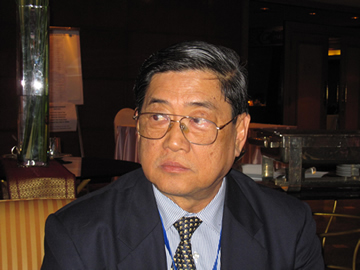 27 January, 2010, APRSAF-16
The APRSAF Secretariat conducted an interview with Dr. Thongchai Charuppat, Advisor, GISTDA on the occasion of the APRSAF-16 held in Bangkok, Thailand in January 2010. He commented on APRSAF-16 as the host country of the forum.
1. About GISTDA's activity
1.1 Current status and activities
1.1.1 Current Status
Thailand has been involved in earth observation satellite applications since 1971
The Thailand Landsat Ground Receiving Station has been in operation since 1982
GISTDA was officially established as a Public Organization (PO) on November 2, 2000
GISTDA is responsible for space technology developments and geo-informatics of the country
1.1.2 Activities
To develop space technology and geo-informatics applications for public concern
To develop the satellite database and the derived natural resources information center
To provide data services relating to earth observation satellites and geo-informatics
To provide technical services and help develop human resources in satellite remote sensing and geo-informatics
To conduct research and development as well as implementing other activities related to space technology, including the development of small satellites for natural resources surveys
To be the core organization to establish common standards for remote sensing and geo-informatics systems
At present, GISTDA has one ground receiving station located at Lad Krabang near Suvarnabhumi Airport, which can receive data from Landsat-5, Radarsat, ALOS (a sub-node of JAXA) and THEOS. We have the data from Landsat (since 1973), SPOT, MOS, ERS, JERS, ADEOS, RADARSAT, IRS and IKONOS collected in our archive. There are 17 countries in the coverage circle of this ground receiving station; Malaysia, Singapore, the Philippines, Indonesia, Brunei, Myanmar, Laos, Vietnam, Cambodia, Thailand, Bangladesh, India, Nepal, Sri Lanka, Bhutan, Taiwan and South China.
1.2 Plan for 2010 and in future
1.2.1 Plan for 2010
One of the GISTDA objectives is to conduct research and development as well as implement other activities related to space technology, including the development of small satellites for natural resources surveys. This is the why Thailand has built its own satellite named THEOS or Thailand Earth Observation Satellite. This is the first earth observation satellite of Thailand. Therefore, in 2010, the plan is for GISTDA to do international business to set up THEOS ground receiving stations in selected countries and sell THEOS data received at the Lad Krabang ground receiving station in Bangkok to countries that would like to use this data by setting up the "Imagineering Center"
Continue using the WINDS satellite for transferring the data from the ALOS satellite to the Lad Krabang Ground Receiving Station
1.2.2 Future plan
GISTDA will cooperate with JAXA in the following three themes of the Project:
Forest biomass estimation using ALOS/PALSAR Polarimetry PRISM data plus THEOS data in Chiang Mai.
Land Subsidence study using ALOS/PALSAR interferometry THEOS in Bangkok or Kanchanaburi
DEM generation using ALOS/PALSAR interferometry and PRISM data in Chiang Mai or Phuket
2. As the host country of APRSAF-16
2.1 Overall impression on the APRSAF-16
Thailand appreciates hosting APRSAF-16 held in Bangkok from 26-29 January 2009 at the Sofitel Centara Grand Hotel. The impression of APRSAF-16 is the number of participants, which drastically increased up to almost 300 and the number of countries participating in this session.
2.2 Advantage of hosting the APRSAF
Many people came to attend this conference and they have the chance to visit the GISTDA office, which gives them more insight into its activities. Thai scientists have more opportunities to participate in this international meeting.
3. About APRSAF
3.1 What do you expect of APRSAF in future in order to make it more attractive and useful?
GISTDA expects APRSAF to be at the core center of countries in the Asia-Pacific region, using data from satellites to solve the problems of disasters, climate change and global warming which always occur in this region. We also expect the activities under APRSAF forum to become more substantial and for closer cooperation among member countries.
3.2 In which area of the APRSAF would you like to get involved in future, in particular?
GISTDA would like to get involved with APRSAF in building small satellites like the STAR programme
GISTDA would like APRSAF to support facilities for building micro satellites by our own engineers.
3.3 Do you have any ideas about establishing new WG/Initiative within a framework of the APRSAF?
Not applicable.