Interview with Mr. Mhd Fairos Asillam Head of the Space Science Research Unit National Space Agency of Malaysia (ANGKASA) and Coordinator for the Langkawi National Observatory Malaysia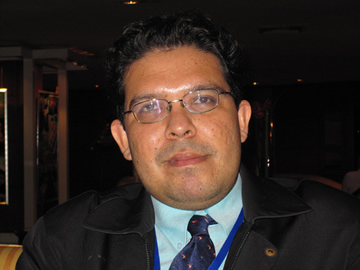 26 January 2010, APRSAF-16
Could you give us an overview of the Microgravity program in Malaysia?
The microgravity program is relatively new in Malaysia. Our only participation in this program was when we had the opportunity of sending our astronaut, Angkasawan (astronaut in Malay), to the International Space Station in October 2007. In this program, our scientists had the opportunity of conducting microgravity experiments on the International Space Station.
What plans are there for space development in Malaysia after the Angkasawan program?
Following this, we found that invitations extended to scientists doing microgravity experiments increased. That is why ANGKASA made a point of establishing the microgravity program as an important program in our agency. Now, the number of experts in microgravity is increasing. Previously, we had no experts in microgravity, but after the Angkasawan program, the number of experts increased by 20 or 30 people. Some of them are young, mainly postgraduate students. Basically, Malaysians are interested in life sciences and nano-material science in the field of microgravity. We have done our best to use these microgravity experiments to enhance our knowledge of microgravity whilst, at the same time, trying to think how microgravity can contribute to our economy. We still have a long way to go.
Japanese Experiment Module, Kibo
Malaysia recognized the Japan Experimental Module, KIBO, as an important platform for doing science on the International Space Station, ISS. As a result, Malaysia is looking to have discussions into joint feasibility studies with JAXA.