Interview with Mr. Mohd Helmy Bin Hashim, National Space Agency of Malaysia (ANGKASA)
November 2010, at APRSAF-17, Melbourne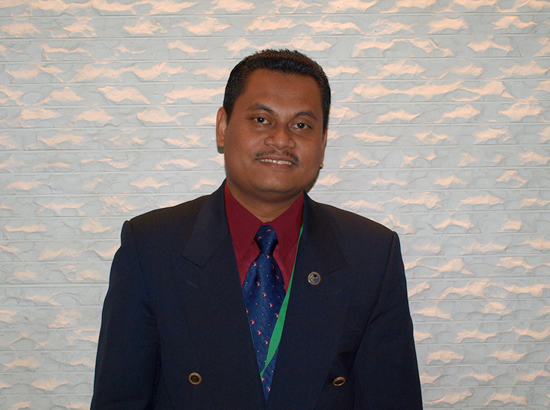 APRSAF-17 was held from November 23 to 26, 2010, in Melbourne, Australia. At the meeting, the APRSAF Secretariat conducted an interview with Mr. Mohd Helmy Bin Hashim, a Research Officer from the Space Science Research Unit, National Space Agency of Malaysia (ANGKASA), Malaysia. At the meeting, as a delegate from Malaysia, Mr. Hashim joined the APRSAF-17 Space Environment Utilization Working Group. In Malaysia, Mr. Hashim has been involved in microgravity experiments since 2006.
Q: Malaysia has already sent an astronaut to the ISS. So, you already have experience for the microgravity experiments.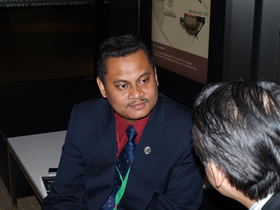 <Ha> Yes, we have got some experience, especially in terms of management, the selection of astronauts, the selection of proposals for experiments in space, and what we can do and what we cannot do. We obtained this experience in our first astronaut program. However, this is the beginning of the microgravity program in Malaysia. Because the program is new, I believe there are many things for Malaysia to do and learn.
Q: There are many possibilities for using the Japanese Experiment Module "Kibo." You have opportunities to use the microgravity experiments in, for example, biotechnology, nanotechnology, or space medicine.
<Ha> I would like to thank JAXA, because they gave us the opportunity to do the experiments onboard in Kibo. I believe the Kibo program is very useful for us. We want to grab any opportunities; that's important for us. I expect that there will be many more opportunities. ANGKASA welcomes further research cooperation with JAXA, such as the work we did on the protein-crystallization experiment.
Q: Are you accepting proposals for experiments from researchers in your country?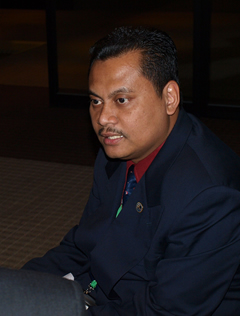 <Ha> Yes, actually we have many workshops and meetings in order to gather information and ideas from researchers and scientists. They contribute many ideas, and JAXA gives us the opportunity to realize these ideas. At the same time, we have a public awareness program. Through this program, we have promoted the microgravity program among the public. We also organized a session for Malaysia Parliament members in order to let them know the importance of microgravity research. They have passed on our message to the people in their constituencies.
Q: What is your general impression of APRSAF-17?
<Ha> It is a great pleasure for me to be here. In my opinion, APRSAF-17 is a very good opportunity for Malaysians to develop networks in order to start joint-venture programs in the field of outer space. I would like to take this opportunity to thank APRSAF-17 for giving me the chance to attend.
<Secretariat> Thank you very much.