Interview with Dr. Ibrahim Oz, Vice President, Turksat Uydu Hab: As., Turkey, December 2011, APRSAF-18 in Singapore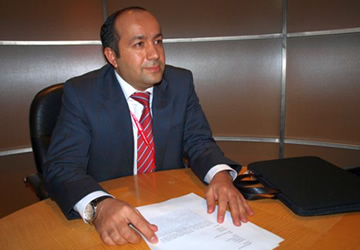 Dr. Oz, Vice President, Turksat, participated in the APRSAF-18 Communication Satellite Applications Working Group (CSAWG) for the first time. In this interview, he tells representatives of the APRSAF Secretariat about Turkey's communication satellites, Turksat, etc.
Q: Your company, Turksat, has 3 communication satellites—Turksat 3A, Turksat 2A, and Turksat 1B—and has also ordered 2 more satellites, Turksat-4A and Turksat-4B. Thus, your business seems to be flourishing. Could you let us know a little more about it, and also inform us about the situation of the satellite communication business in Turkey?
A:Turksat previously operated its own 4 satellites and 2 of them reached the end of their lives. We have leased satellites at our orbital locations, and currently, we have 2 communication satellites, named Turksat-2A and Turksat-3A. They are almost full, and we need more capacity to serve our customers. That is why we ordered two more satellites, Turksat-4A and Turksat-4B. They are being manufactured by MELCO, and their launches are planned for the end of 2013 and beginning of 2014 respectively. They will be operated initially at the 42- and 50-degree east longitudes respectively. It will be possible to deploy the satellites in slots other than designated ones. As Turkey's economy grows stronger, the country's satellite communication demand will also grow. The use of satellite communications has grown exponentially over the past decade owing to the utilization of satellites in radio and TV broadcasting as well as the expansion in the use of them for data transmission. There is clearly a strong and growing demand for satellite capacity to meet customers' requirements. Turksat is providing a solution to meet these requirements. Thus, addressing this challenge is a good business opportunity for both commercial satellite operators and ground equipment providers
Q: Turkey launched a small Earth-observing satellite RASAT through TÜBİTAK UZAY this year. Does your company have any connections with this satellite?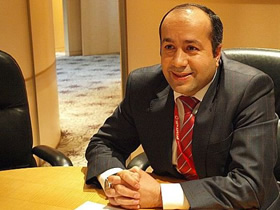 A: We have connections with TÜBİTAK UZAY in a broad range of areas but no specific connection with RASAT. RASAT was developed to demonstrate the satellite design, manufacturing, test, and operation capabilities of TÜBİTAK UZAY and hence of Turkey; to serve as a testing platform for space hardware manufactured in Turkey and software designed and developed by Turkish engineers and technicians; and to gather optical satellite images.
Q: With communication satellites and an earth observation satellite, it seems that the government is promoting space activities in your country. Do they have any strategy or plans for space activities?
A: Different organizations and companies in Turkey are working in collaboration to improve the country's potential for space activities. TURKSAT is also one of the organizations that played an important role in helping Turkey achieve its long-term strategic plan of having a national space industry. Since 2005, through different technology transfer programs, TURKSAT has been in the process of manufacturing communication satellite platforms. As the Direct Participation Program with MELCO and JAXA is the last stage of this process, TURKSAT plans to manufacture the first Turkish communication satellite, named Turksat-5A, at the AIT facilities, which are to be deployed by 2013, and plans to launch this satellite by 2015.
Q: What are your impressions of the APRSAF? Does this conference benefit you in any way?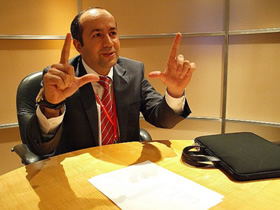 A: We benefit in many ways from attending the APRSAF conference since it gives us an opportunity to meet representatives from the satellite communication industry and market of our neighboring countries. In this way, new opportunities for collaboration could arise. Our company appreciates these opportunities because we plan to increase our communication capacity so as to cover the entire Asian region.