Interview with Dr. Talgat Mussabayev, Chairman, KAZCOSMOS, December 2011, APRSAF-18 in Singapore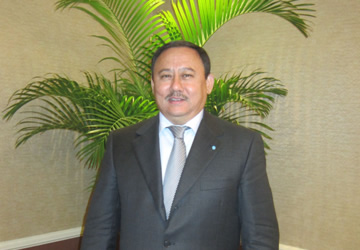 Dr. Mussabayev, who has participated in APRSAF since APRSAF-15 held in Vietnam, talks about Kazakhstan's space activities and his views on its relation to APRSAF.
Q: I think the most important counterpart in Kazakhstan's international relations is Russia. What about the Asian countries?
A: Of course APRSAF is important for Kazakhstan. That is why we participate. When I became the chairman of the national space agency of Kazakhstan, I made a decision to participate in APRSAF. Among the countries of APRSAF, India and Japan especially have a very high level of space technology But this is not the only reason. The main reason is that we consider ourselves to be an Asia-Pacific country. We also would like to receive some information and data from the countries of APRSAF, and we can share the information with these countries.
Q: In your presentation at the APRSAF-18, you mentioned six main areas of development* for Kazakhstan's space activities. Can you explain your future activities?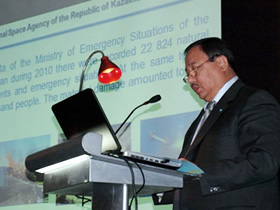 Dr. Mussabayev on his presentation
A: We plan to have a whole constellation of communication satellites—the "Kazsat" series. Currently, the third "Kazsat" is in progress. It will be launched at the end of 2013 or in early 2014. We also will have two advanced remote sensing satellites. The first one is a medium- resolution satellite with 7-m resolution, and the other is with a high resolution of 1m. They will be launched by the end of 2014. Besides, the ground structure is being created. For example, in Astana, there is a spacecraft design and technology office building. Also, an assembly and test facility is under construction. These two projects are joint ventures with a French company, EADS Astrium. At the same time, our specialists are trained in France, and technology transfer is also underway. Apart from that, the joint venture with Russia of building a launch complex of "Bayterek" for the new generation launch vehicle "Angara" is underway. We also participate in the company "ISC Kosmotras," who launches the Ukrainian RS-20 "Dnepr" launch vehicle.
Q: Hearing your story, the Kazakh government seems to be eager to promote space activities in Kazakhstan.
A: This is really how it is because we started from the very beginning, from "zero." Since the end of the Soviet Union, there is no space industry in Kazakhstan.
Q: And now you have the results of your effort.
A: This can be seen as easy from the view of a space-faring nation.
Q: Back to the topic of APRSAF, you mentioned Sentinel Asia as a good example of international cooperation. Do you have any plan regarding APRSAF activities?
A: We agree and support the objectives of APRSAF to provide satellite data to Asian-Pacific countries. We plan to launch a research center for this activity. We plan to receive data as well as provide data to APRSAF countries. We already have bilateral relations with APRSAF countries such as ISRO and JAXA. We wish to strengthen our relations with them.
Q: Now you can contribute to Sentinel Asia with your satellite.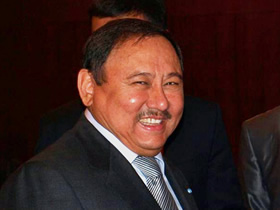 A: Correct. Of course, we continue our work with India and Japan. Now we are cooperating with Japan for astronomical observation. We are also building a new generation, state-of-the-art telescope with a 3.5-m mirror. We have perfect conditions for a telescope in the mountains with clear visibility, far from the cities. We can also provide a launch service for Japan. We have a good launcher.
* Six main areas of development for Kazakhstan's activities from the APRSAF-18 presentation: http://www.aprsaf.org/annual_meetings/aprsaf18/pdf/program/day3/9_Mussabayev_report_eng.pdf
- Creation of target space systems (communications, remote sensing)
- Development of ground space infrastructure (means of production and launch vehicles)
- Development of scientific and technological basis of space activities
- Implementation of target projects for the use of space systems
- Training and development professionals for the aerospace industry
- Establishment of contractual, legal, and regulatory framework for the space industry