Interview with Ambassador Dumitru-Dorin Prunariu, Chairman, UNCOPUOS, December 2011, APRSAF-18 in Singapore <Part1>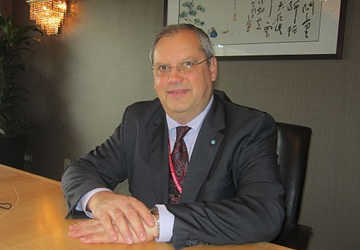 The APRSAF Secretariat interviewed Ambassador Dumitru-Dorin Prunariu, the only Romanian cosmonaut and current Chairman of the United Nations Committee on the Peaceful Uses of Outer Space (UNCOPUOS) during APRSAF-18. He talked about how his experience as an astronaut influenced his career, and he shared his views on space activities among Asian-Pacific countries and the role of APRSAF.
Q: You have had various careers: the ninth international astronaut other than the United States and Russia, President of ASE, Chairman of COPUOS, former President of the Romanian Space Agency, and ambassador to Russia.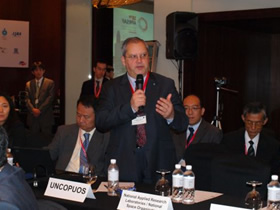 A: I retired from the Romanian Air Force five years ago as a major general. I was selected as an astronaut candidate at the age of twenty-five. My dream was always to fly. But I never thought that I could fly in space. The airplane was my object of activity. I was very determined to learn how to build and fly airplanes. My dream was to build my own airplane, a big one, to know exactly how to design everything and then to test it in flying. But life was most generous with me and gave me the possibility to fly much higher than airplanes and fly into space. When I was twenty-four and a half, I completed my military service in Romania, and I was in the right place at the right time to be invited to participate in the selection of the cosmonaut candidate. After participating, I started my training in the "Star City" in Russia. Even then, I was not sure if I could really fly into outer space. But step by step, this new activity attracted me more and more, and I really became fond of that. During three years of training, I learned more and more, I was better and better quoted, and at the last examination I had the maximum marks, so my chance to represent Romania in outer space became very real. Then Romania became the eleventh country in the world to have a cosmonaut. I am happy that I could stimulate Romania's space activity. We already had specialists and some research institutions, but everything was developed faster at the higher level after my space flight. Experiments in the fields of medicine, psychology, space technology, and astrophysics that I did in space brought a lot of scientific results, which helped some institutions to develop and propose new experiments and accomplish them. Now Romania is a full member of the European Space Agency (ESA), the second from Eastern Europe after the Czech Republic. Now we can take part in larger European space projects, not only in the research field but also in the industry field.
Q: Does being a cosmonaut influence your career?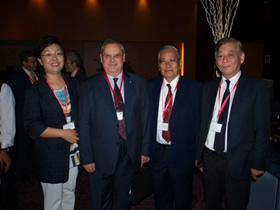 A: Cosmonaut candidates are a special group of persons. Not just anybody could be selected to fly in space. Besides a very good professional knowledge, the astronauts should have a good medical parameter, a very stable psychological status, to think quickly and to act fast and sure. These qualities help you in your everyday activity on earth, especially if you are a manager and have to take decisions. Such decisions keep things running, keep everything under control in your hands. Having a good initial background, my space training and the space flight helped me to improve most of my qualities and abilities, and they helped me in my management careers.
To be continued to <Part2>