Interview with Mr. Jonathan Hung, President, SSTA, and Mr. Leong Keong Kwoh, Director, CRISP, December 2011, APRSAF-18 in Singapore.
APRSAF-18 was hosted by Singapore Space and Technology Association (SSTA) and Centre for Remote Imaging, Sensing and Processing, National University of Singapore (CRISP) along with Japanese counterparts. Mr. Jonathan Hung, President, SSTA, and Mr. Leong Keong Kwoh, Director, CRISP, talked about APRSAF and space activities in Singapore.
Q: Why do you plan to invite APRSAF to Singapore?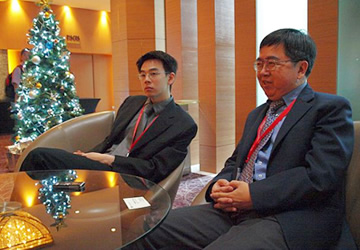 Mr. Hung (H): Earlier on in 2010, we had close discussions with JAXA, and they mooted the idea of us hosting APRSAF in Singapore. As it would be a first time for Singapore, and since we are seeing a greater sphere of space activities take off, we thought it would be beneficial.

Mr. Kwoh (K): CRISP is a member of APRSAF and a regular contributor to APRSAF initiatives of Sentinel Asia and SAFE. I am a regular member of Sentinel Asia myself and have benefited from the meetings. Hence, when we were invited to host the meeting, I felt that it was a good opportunity to support and contribute to APRSAF.

H: This event is very significant in Asia. Singapore's space industry is considered nascent at best. We have developed some space infrastructure and satellite activity over the years. Hosting the APRSAF meeting would allow a meeting of minds between the regional space players, something that will be a key enabler for us to boost this sector in Singapore. We would also like to grow strong and sustainable relations with other countries in the field of industry development and R&D.
Q: What are your expectations for your space activities in the future?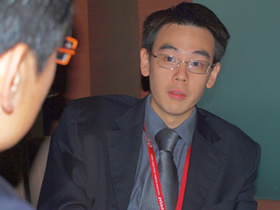 Mr. Jonathan Hung
H: Space activity in Singapore is small but growing quickly. For example, we've had CRISP here for quite some time now. We also have Nanyang Technological University (NTU), which has been developing our small satellite capabilities for many years. Eventually, we intend to grow a strong and sustainable space industry, anchoring key regional and international space players to collaborate with local industry, be a talent development center for satellite engineers and scientists, and be a regional hub for space R&D. We'd also like to enhance our international relations with Japan, recognizing the country as a leader in the space domain.
Q: CRISP is very well known in the region. How was it built?
K: CRISP was established as a research center in the National University of Singapore back in 1992. Equipped with a ground station, we accumulated a large archive of remote sensing data, which our research team could leverage on. The CRISP researchers are also active in collaborations with both local and international organizations.
Q: Will you explain SSTA?
H: Seven years ago, SSTA was founded as a small organization that was set out to expand Singapore's space industry. Our establishment leveraged Singapore's strong aerospace industry, telecommunications, and electronics activity—all key ingredients for a sustainable space industry to thrive in. Taking into account our local expertise in these areas, space was a natural extension. We did not have to start from scratch, since Singapore was already home to a fairly diverse range of space companies in the fields of satellite imagery, manufacturing/R&D, and telecommunications. As we don't have a space agency in Singapore, SSTA works as a bridge and interlocutor among industry, R&D, and academia. We also support all national educational programs related to space. Through hosting APRSAF, we hope to learn from the regional countries that have already been implementing space policies through the years, and better serve the space industry in Singapore and abroad.
Q: It seems that Singapore's government is eager to promote space activity.
H: Again, the space activity in Singapore is still nascent, but growing progressively. Space really encompasses a broad range of engineering and science disciplines, something Singapore is well known for, since a large portion of our GDP is derived from manufacturing and engineering. It's the next step forward, and we hope to capitalize on our strong domestic talent.
Q: What contribution do you hope to make to APRSAF member countries?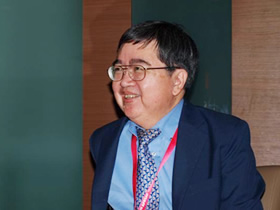 Mr. Leong Keong Kwoh
K: As mentioned earlier, CRISP is keen on collaborating with scientists and organizations of other APRSAF countries. CRISP is also a strong supporter of regional APRSAF initiatives of Sentinel Asia and SAFE as well as the newly proposed Climate R3.

H: We also have major space and related industries that, through such meetings, can stimulate new collaborative projects.
Q: What is your message to APRSAF members?
K: I hope all the participants will enjoy their visit to Singapore and that APRSAF would grow from strength to strength in the coming years.

H: I hope they see how Singapore can play an active role and support their efforts in pushing the boundaries in space.

Q: Thank you.