Interview with Dr. Suvit Vibulsresth, Former Executive Director of GISTDA, Thailand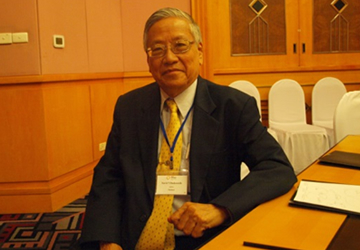 Dr. Suvit Vibulsresth has played a significant role in the development of APRSAF from the very beginning. He received an APRSAF award at APRSAF-20 in Hanoi, Vietnam. He was recognized for his contributions to APRSAF, including launching the first APRSAF initiative, Sentinel Asia; launching the SAFE initiative; hosting APRSAF-10 in Chiang Mai; and organizing APRSAF-16 in Bangkok.
In this interview, Dr. Suvit, speaking as an observer and key participant in APRSAF, repeatedly stressed the importance of face-to-face relations in order to develop an international project. He also shared some anecdotes from his own experiences about establishing good relations.
Establishing personal relationships
Secretariat
I listened to your presentation at EOWG, regarding the history and future of APRSAF, as well as collaboration efforts between the countries in the Asia-Pacific region. You have observed the progress of APRSAF over the years, noting that the first meeting was attended by 20 or 30 members.
Dr. Suvit
Yes. We really have to thank Japan, NASDA, and now JAXA for really working in cooperation with other Asian countries. If NASDA or JAXA did not pay attention or did not help us, we would not have the strong cooperation we have today. This is not only my opinion. When I talk to my Indonesian, Malaysian, Philippine, or Vietnamese friends, they really seem to think that JAXA, and formerly NASDA, have done a very good job in this field. We hope that Japan will continue to do this.
I feel that Japan should assume the role of a big brother. The big brother must help the younger brother and really understand his needs. Sometimes, the country providing assistance may believe something is good for a developing country, but in actuality, it might not be because of a different situation. You have to understand the situation well. You have to obtain inputs from the people in that country, not work with just your own observations. You have to work together and learn the situation in that country.
Secretariat
During your presentation, you spoke about the needs of the various countries in the Asia-Pacific region. This is an important issue not only for Japan, but for all members from all the countries in the Asia-Pacific region.
Dr. Suvit
Exactly. Most importantly, you have to become friends.
Secretariat
It goes along with what you said in your presentation about the importance of international and regional relationships or cooperation.
Dr. Suvit
Yeah, I am not talking about merely official and concise communication involving governments. In reality, people should be friends who can talk openly; otherwise, if you are not a friend, you do not tell the truth.
In working with remote sensing, I work with the Landsat Ground Station, operators working group, NASA, NOAA, the European Space Agency, Japan, NASDA, and other countries. We are all friends. After a meeting, we would go to a bar and drink and talk and sometimes sing together, which is how we became friends.
It's no secret. You open your heart. I open my heart. We can enjoy drinking together. Sometimes governments cannot share all the information it possesses. They can only tell me what I need to know. However, if I want to know more details, I can just call you up on the phone and you will tell me. However, if I write a letter to your boss, the director, the response would be "no."
Secretariat
Therefore, getting to know each other is the basis of the cooperation or collaboration among international countries and regional countries.
Dr. Suvit
Of course, at the government level, the official level, it is okay. But that is not enough. People who work together should also get to know each other. The best-case scenario is to become friends. You might have seen this exemplified among students.
Secretariat
In that sense, maybe the APRSAF meeting is a starting point to get to know each other. We must take another step towards knowing each other after meeting at the APRSAF meeting.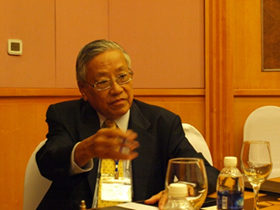 Dr. Suvit
Not only the Japanese, but the other Asian countries really need do make similar efforts. Nowadays, this is difficult in my opinion. When I was the first Vice Chairman of COPUOS in Vienna, I went to a meeting; I was the head of delegation and my staff was younger than I. In the evening, after the meeting, normally there would be a reception at the Japanese Embassy or the Chinese Delagation. There would be a little food, but there would be wine and talk, mostly talk. None of my staff wanted to go. They would say, "Sir, I want to go shopping" or "I would like to go back to the hotel." However, when I was younger, I would go to such meetings to meet people from Africa, Latin America, Japan, and China. We would talk to each other and become friends.
Secretariat
It is a very rare opportunity to get to know each other.
Dr. Suvit
The people from this country are the future leaders. Right now, they may be young. However, ten years from now, they may become the general directors, their organization's number one person. If you know others and become friends, that is good. When we become leaders together, this results in good cooperation. Otherwise, if you do not know each other, then it becomes very difficult.
The way of making a project operational
Secretariat
It comes to what you said in your presentation about the importance of dialogue between regional communities and regional countries.
Dr. Suvit
There is always the future or present, but no past. Actually, it is interesting what we have done. You are familiar with the American USAID; we have done that in Thailand with crop monitoring, crop yield assessments using satellites, and also area frame sampling.
We do not need to do that, but how can we make it operational? You need to have stakeholder participation.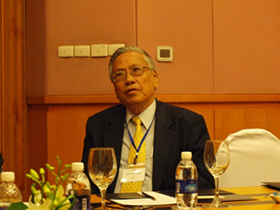 Perhaps this happens through an international organization, like ESCAP or CEOS. It is something like that. Then, you have to find a common interest, such as JAXA who has an astronaut going to moon or Kibo. You have to find areas of common interest between countries.
Then you have a consumer agency, like the Ministry of Agriculture and a source of funding like a budget bureau. GISTDA (Thai Space Agency) cited while we are excellent with remote sensing analysis, for what do they need this skill? They are a consumer agency and are not interested. They have their own methodology and do not need to use satellites. How can we suggest they use satellites? We know that if they use satellites and remote sensing, the result will be a better yield, and assessment. It will be more efficient and cut their budget. Nevertheless, how do we ask them to come and join us?
As I said, you have to create a working group involving the stakeholders. This is what I did. We asked a representative to be in the working group. We have a working group for land use or agriculture and forestry. The members are at the working level, not directors; these are the people who work every day. There is no leader who monitors everyone; people work together at the same level. They are friends who can talk to each other.
Secretariat
Your story reminds me of what Dr. Mustafa from the ANGKASA (Malaysian Space Agency) said last year. He said it is important for the ANGKASA to satisfy the needs of the people for clients to continue sustainable development of space endeavors. This might be the same situation or same program.
Dr. Suvit
It is the same principle, but how do we do it? Each country is not the same.
Each country has their own environmental factors. Each country has their own principles. If you stick to this principle, then apply it to your own countries, it is okay.
Secretariat
Maybe the APRSAF or its working group should seek a resolution to adapt the program or challenges in each countries, which vary from country to country, through the exchange of information or through the dialogue among the staff or …
Dr. Suvit
Correct. I understand this is difficult because everybody is busy, but if you are a student, you have a lot of time. When I was a student, I had many Japanese friends. I went to their houses and we talked to each other. Anyhow, once or twice a month, there should be something similar. If you invite ANGKASA one time, then ANGKASA will invite you the next time. You do not have to pay. You can get paid because they have money, everybody has money. You do not need to pay someone to have a good relationship.
Secretariat
It is very important for us all to maintain a good relationship.
Dr. Suvit
Now, it is more and more difficult even in my country because of the Internet. Even the bosses might order something, they are communicating, but they do not see each other. The secretary sends an email. This is not good.
To be a bridge among countries in the Asia-Pacific region
Secretariat
I think it is very important to have people like you who know the history of APRSAF and have a very good relationship with Japan and the other countries.
Dr. Suvit
I received the Japanese Monbusho (Ministry of Education, Science, and Culture) Scholarship.
Secretariat
And then you went to Osaka University?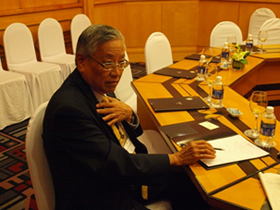 Dr. Suvit
Yes, I studied and trained in Japan for six years. I ate a lot of Japanese rice and udon (Japanese noodle), so I want to be kakehashi (Japanese for Bridge) between Japan, my country, and other Asian countries. I want to repay Japan.
Secretariat
That is very nice.
Dr. Suvit
Maybe in my case, it is a little bit unusual because everyone is not like me. Therefore, I might be representing a minority point of view.
Secretariat
It is very nice to be a kakehashi, gentleman.
Dr. Suvit
Okay.
Secretariat
Thank you.