Interview with Prof. Dr. Raja Noor Zaliha Raja Abd. Rahman, Head of Enzyme and Microbial Technology Research Centre, UPM, Malaysia
The APRSAF Secretariat interviewed Prof. Dr. Raja Noor Zaliha Raja Abd. Rahman, Head of Enzyme and Microbial Technology Research Centre, Faculty of Biotechnology and Biomolecular Sciences, Universiti Putra Malaysia, at APRSAF-20 in Hanoi, Vietnam, December 2013.
Dr. Raja Noor is one of the members of the Space Utilization Working Group (SEU WG), as she is involved in the protein crystallization program in space. She completed her doctorate (D. Eng) from Kyoto University in Japan in 1998.
In addition to her participation in the working group, she also presented the results of her experiment in the ISS at the special event in the Plenary with the theme of "Values from ISS."
http://www.aprsaf.org/annual_meetings/aprsaf20/pdf/program/day3/D3_1545_2_malaysia.pdf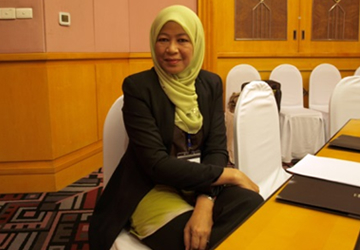 First involvement in space experiment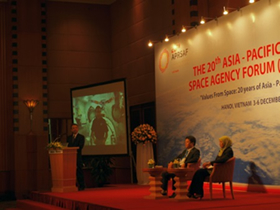 "Values from ISS"
Secretariat
First of all, how did you get involved in protein growth experiment in the ISS?
Dr. Raja Noor
The launch of the first Malaysian Astronaut Program (known as the Angkasawan program) in 2007 provided opportunities for Malaysian scientists to initiate studies in microgravity sciences. One of the selected experiments was protein crystallization, which was my project. JAXA involvement in the first Malaysian Astronaut Program was to study the level of radiation exposure of the Angkasawan/astronaut in space using a dosimeter. Based on the first Malaysian Astronaut Program, my protein crystallization in space experiment was a success.
During the Microgravity Workshop in Malaysia in 2008, I met Dr. Muneo Takaoki from JAXA. He mentioned the possibility of sending more proteins with JAXA's Protein Crystal Growth (PCG) project. After several meetings in Tokyo and Tsukuba with the JAXA team, an agreement between the Malaysian government and JAXA was signed. Under this agreement, we were given 12 capillaries of 4 proteins for each space mission. Six space missions were completed from 2009 to 2013 with 24 Malaysian proteins sent to space. This was how I became involved in the protein growth experiment in the ISS: first with our own Astronaut Program and then through later collaboration with JAXA. However, I have to say that although we have sent proteins to space, protein crystallization is still very new in Malaysia. My protein was the first to be successfully crystallized. My interest in protein crystallization started a few years before the Angkasawan program. In 2005, we determined the first protein structure using synchrotron facilities in SPring-8 (a large synchrotron radiation facility in Hyogo prefecture) with my collaborator in Osaka University. This led to the selection of my protein crystallization project for the Malaysian Astronaut Program.
Secretariat
How did you feel at first when you found out you could conduct your experiment in space?
Dr. Raja Noor
To be involved in a space experiment was very challenging to me. At the same time, I felt very happy and proud for the opportunity given. It is not often that a research finding by a researcher from a local university, especially in Malaysia, would end up not in one but seven successful space missions.
Continuing experiments
Secretariat
You said that the starting point of your space experiment was with the Angkasawan program, with the flight of Dr. Sheikh Muszaphar Shukor (Malaysian astronaut), and then later you could continue your experiment in collaboration with JAXA or other APRSAF countries.
Dr. Raja Noor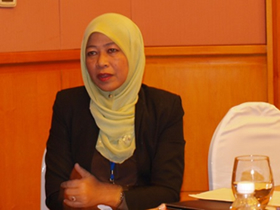 I feel very happy and very proud to be able to continue the space program for the country with the JAXA PCG project. In my presentation earlier, I shared that we had many positive results. Most importantly, students graduating from this project represent new talents for the country in the area of crystallography. I am a molecular biologist by training, and I was not trained in this area, but I was forced to learn for the success of this program.
Secretariat
I see. The space experiment on the ISS, especially protein crystallization, has very broad possibilities. However, there are some hurdles to leap through given the requirements for conducting space experiments. Moreover, I think there are more countries among the APRSAF members who will follow your path.
Dr. Raja Noor
Yes, I hope so. I really hope so. I think the only thing that anybody who wants to do protein crystallization in space needs is to be successful in their ground crystallization work. Protein crystallization is difficult but not impossible. A large amount of very pure protein is needed, and this is the problem faced by most protein scientists. I remember a few researchers I met during conferences who told me that they had given up on protein crystallization, as it was too difficult to obtain an adequate amount and good purity protein for crystallization. They said it was better to perform crystallization for smaller molecules compared with protein. Protein crystallization is not easy, but I know many Japanese researchers who have been doing this for a long time. I remember reading their published manuscripts back when I was completing my doctorate in Kyoto University.
Space experiment promotion
Secretariat
I see. To promote space experiments or maybe especially the protein crystallization experiment, what is needed in future among APRSAF communities or the SEU WG?
Dr. Raja Noor
We need to communicate and share our experiences; this applies to APRSAF communities or the SEU WG. We should meet more often during meetings or conferences. For protein crystallization, sharing experiences will be a great help. From my own experience, I appreciated the help of JAXA and highly experienced collaborators from Japan. Their technical advice given during their visit to my lab and our visit to their lab in Japan proved to be crucial to our success.
Secretariat
Maybe the SEU WG or Kibo-ABC will help each other solve that problem.
Dr. Raja Noor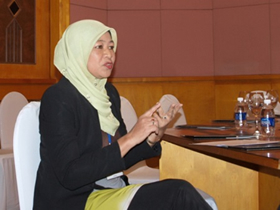 After my presentation, a colleague from Pakistan was interested in sending his students to my lab to learn more on protein crystallization. I think this move is a good start; I can share my knowledge and experiences, and my students can also share theirs. Our lab is well equipped for protein crystallization work with an in-house X-ray diffractometer. I would like to welcome all researchers to my lab, especially those from the APRSAF communities or SEU WG.
Secretariat
Is this a new step or new progress for the APRSAF and the SEU WG?
Dr. Raja Noor
Yes. Based on the presentation, members of the APRSAF and the SEU WG are aware of our progress and success in this area. I think it is a good sign if members are willing to come or send their students to our lab. I really hope that our Pakistan colleague will do so soon.
Message to APRSAF community colleagues
Secretariat
Yes. At this point, do you have any advice to your colleagues in the SEU WG as regards sharing knowledge and experiences?
Dr. Raja Noor
As I mentioned a few times, we should not give up in research. It is not impossible to achieve good results in this case, that is, obtaining good protein crystals. It is just that you need to know the proper technique. You need to talk to knowledgeable people, gain experience, and seek technical advice from researchers who are involved and successful in this area.
Secretariat
You can use your experiment in your study in Japan. For other members from other countries, your experiment has been a valuable contribution. It is not our main focus, but in your presentation, you touched upon your visit to the University of Hyogo and SPring-8.
Dr. Raja Noor
Yes. I visited SPring-8 three times and the University of Hyogo twice. Currently, my former master student is completing her Ph.D. at the University of Hyogo. When she graduates, she will be a new expert in the country. She will be trained in protein crystallography thoroughly. As we do not have synchrotron facilities in Malaysia, her exposure to SPring-8 facilities will be an added benefit for her.
Secretariat
You and your student's international relationships are growing through your experiment.
Dr. Raja Noor
Yes, and these connections are beneficial for our research.
Secretariat
I wish you success in your study of protein crystallization, and I thank you again for taking the time for our interview.
Dr. Raja Noor
Thank you, and I would also like to thank JAXA and ANGKASA for giving me the research opportunity I have enjoyed. I never dreamed before of being involved in space experimentation. I am happy to be the pioneer space scientist in Malaysia after both programs, and I hope to be involved in future missions. Thank you.
Secretariat
I imagine that before the Angkasawan program you could not have imagined becoming a space scientist.
Dr. Raja Noor
No, I never thought of it at all before.