Interview with Mr. Nguyen Vu Giang, Assistant Manager, Department of Remote Sensing Technology, GIS & GPS, Space Technology Institute (STI), Vietnam Academy of Science and Technology (VAST)
The APRSAF Secretariat conducted an interview with Mr. Nguyen Vu Giang, Assistant Manager, Department of Remote Sensing Technology, GIS & GPS, Space Technology Institute (STI), Vietnam Academy of Science and Technology (VAST) at APRSAF-20 in Hanoi, Vietnam, in December 2013.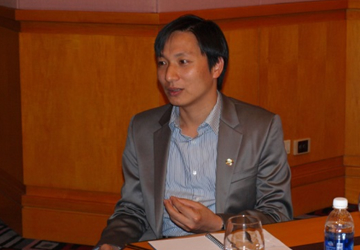 With a background in environment, remote sensing technology applications, and GIS, he now works for the remote sensing sector of STI, VAST. When VAST hosted APRSAF-20 in Hanoi, he played a key role in conducting APRSAF-related activities such as the Water Rocket Event, Poster Contest, Space Seed for Asian Future (SSAF), and Parabolic Flight Program.
Organizing educational programs
Mr. Giang coordinated with participating schools and universities to organize the educational programs. For example, for SSAF program, "I coordinated with various schools and biology teachers, developed the program, set the guideline for students, and invited students to enroll in the program. Both the school teachers and students who participated in the program found it to be interesting and hoped the program would become an annual event," said Mr. Giang. He indicated that if they continue to offer this type of program each year, children from different grades will also have an opportunity to participate in the program, and teachers will be better able to prepare for it, for example, effectively integrating subjects such as physics or biology.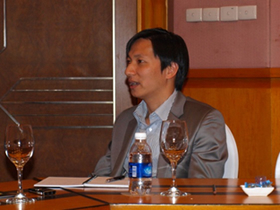 "I was very surprised when some of the kids said that they had found that Azuki beans (which they planted for the SSAF program) were easy to plant, fast growing, and contained rich protein, and that people should bring the beans when we discover and live on other planets," said Mr. Giang, citing his impression of the program's impact on stimulating the children's interests in science. He continued, "This would contribute to our human resources development in the future. We also organize the Parabolic Flight Program (a microgravity experiment program) with students in universities, so it would be quite logical if there were a sequence of space-related education events beginning in secondary school, through high school, to the university level. We could introduce students of all ages to several types of the space-related education programs."
Further improvement of the activities
"Thus far, from my opinion, there have been very few activities. We really want to build this program to be more comprehensive, strategic, and interesting," Mr. Giang suggested. "We do not want to make it simple and repetitive every year."
"I hope that we can organize annual space-related events like a youth science camp for students and an experiment contest, something like the Robocon, for the university students."
Learning from other countries' experience
To improve the programs, Mr. Giang stressed the importance of involving other organizations, which was where lessons learned from other countries experiences' were useful. "For example, Malaysia can call the NGOs the financial support and collaborate with other ministries to make their program more effective." However, in Vietnam, they first need to "raise awareness about their activities so that they could collaborate with each other, not just one-sided support."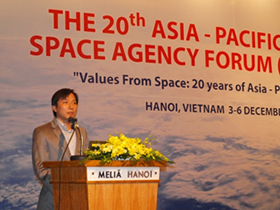 Mr. Giang presenting at Plenary
In comparison, he discussed Thailand's efforts: "We also learned from Thailand, as they have excellent public relations campaigns. The Director of Science Media Division in NSTDA, Dr. Kritsachai Somsaman, told me that he had to work hard to form the media sector in his organization. Strong public relations are a very important and effective key to program improvement."
Impression on APRSAF-20
Mr. Giang and his colleagues from STI did a tremendous job in organizing APRSAF-20. "I should say thanks to all of my colleagues who greatly supported me," said Mr. Giang, reflecting on the event, "I think the younger STI colleagues learned a great deal after becoming involved in this event. Our STI staff became closer and developed a greater understanding of each other. This reflects a positive movement towards building team spirit and consequently contributing to the development of STI in the future."