Joint Development of Innovative Small and Cube Satellites
The first meeting on joint development of innovative small and cube satellites was held in Bangkok
On June 11 and 12, 2018, the first meeting on joint development of innovative small/cube satellites organized by the APRSAF Secretariat was successfully held at the JAXA Bangkok Office.
Space-emerging countries in Asia are increasingly developing their own satellites, as observed in recent years. Seeing the increasing momentum to acquire satellite manufacturing technologies, the APRSAF-24 held in 2017 supported the idea to build a scheme to initiate discussions for future collaborative activities to jointly develop innovative small and cube satellites with the aim of providing new solutions that address current global and social issues.
The first meeting on joint development of innovative small/cube satellites was proposed to discuss potential mission concepts of innovative small/cube satellites for future collaborative activities.


First meeting at JAXA Bangkok Office
Seven space organizations participated in this meeting, namely, ANGKASA of Malaysia, DOST of the Philippines, GISTDA of Thailand, ISRO of India, JAXA of Japan, KARI of Korea, and VNSC of Vietnam.
ISRO, JAXA and KARI participated in person at JAXA Bangkok Office, while other participants joined via teleconference system.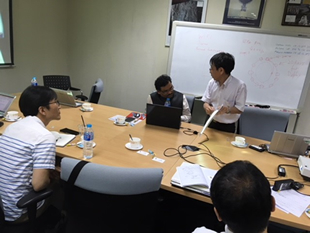 Discussion among participants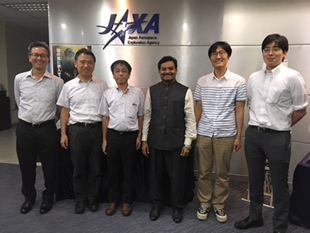 Group photo at JAXA Bangkok Office
During the meeting, participants exchanged views on the objectives of joint development for future collaborative activities and shared the following points.
(1)

The objective and key intent of this joint development of small and cube satellites is not to train more talent or build capacity, but to demonstrate the high capabilities of experienced professional engineers in the region and bring concrete solutions to the issues on the ground.

(2)

To develop innovative, technologically challenging satellites.

(3)

To develop satellites that will provide new solutions to social issues.

(4)

To achieve the aforementioned points within a short development period of around three years, in order to keep up with the speed of technological advances.
In addition, other matters that were discussed at the first meeting included the social issues to be addressed, innovative key technologies, and mission concept ideas.
JAXA proposed an idea for a potential mission to demonstrate the rendezvousing and docking technologies of CubeSats, which are expected to be indispensable technologies for the future constellation of CubeSats.
Upon receiving the proposals on the mission concepts from the participating organizations by the middle of August, the APRSAF Secretariat plans to hold the second meeting on August 23, 2018. At the second meeting, the APRSAF Secretariat plans to narrow down the number of mission concepts that undergo a follow-up feasibility study.
Based on the process above, the APRSAF Secretariat aims to announce the selected mission concepts for joint development of innovative small/cube satellites at the APRSAF-25 to be held in Singapore in November 2018.
If you are interested in joining the second meeting, please contact the APRSAF Secretariat.