SAFE:
Space Applications For Environment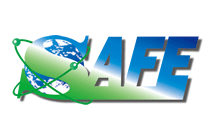 For up-to-date information about the SAFE initiative,
please visit the SAFE Portal site
Objectives
Space Applications for Environment (SAFE) is a voluntary initiative to encourage environmental monitoring in the long term to understand environmental changes; it may be useful for risk reduction and adaptation programs associated with disasters and environmental risks. Satellite remote sensing technology enables observation of the Earth from space and provides a basis for the measurement of some of the changing environmental parameters in various areas such as water resources, sea level, land cover, deforestation, agricultural production, and ecosystems. Continuous provision of such data could provide environmentally sensitive information with varying spectral and spatial resolutions for a better understanding of the status of the environment, its changes, and implications for its sustainable management.
Background
The Asia-Pacific region contains approximately two thirds of the world's population, and it faces a huge threat from the increasing influence and consequences of climate change, such as deforestation, droughts, floods, food security, and health issues. Therefore, it is important to monitor climatic parameters as well as possible effects related to climate and environmental changes, and satellite remote sensing can play an important role in these efforts. Participants of APRSAF-15 held in Hanoi, Vietnam, responded to the needs for continuous and long-term data sharing mechanisms in the Asia-Pacific region, and they affirmed the official establishment of SAFE as a new initiative to provide information on the environment using satellite-based data.
Framework of SAFE
The SAFE implementation structure consists of prototyping executors (user agencies), technical supporters, and data and application creators. All SAFE demonstration activities (i.e., "prototyping") are designed to be carried out through collaboration among these three groups.
Under SAFE prototyping, the existing conditions of various environmental changes affecting food security, deforestation, land cover, water resources management, drought and flood disaster, etc. can be identified, and the usefulness of satellite technologies for strategy development by governmental bodies is in place.
Project team members of each prototyping activity implement their responsibilities on a volunteer basis. APRSAF provides support by approving such activities as official.
Activities
SAFE was officially established at APRSAF-15, Hanoi, Vietnam (December 2008)
First SAFE workshop, Pattaya, Thailand (May 2009): 7 proposals from 4 countries were submitted, and 2 proposals were approved for launching prototyping.
As of February 2015, 15 prototyping projects from 8 countries had been completed, and 6 projects from 3 countries and an international organization are ongoing.
Successful evolutions after completion of prototyping:

- The water resource management system developed through Vietnam's integrated water resource management prototyping was adopted as a tool of ADB's technical assistance project known as "Operation of flood alert system with satellite data."

- The Web-GIS system developed through Indonesia's assessment of drought impact on rice production through satellite remote sensing has achieved the status for sustainable operations.