Interview with Dr. Mylswamy Annadurai
Satellites can help better governance in India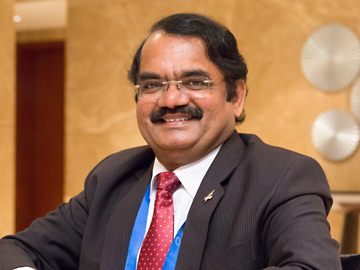 APRSAF Secretariat
India is very rapidly growing its activities in the space field and you are involved with many important Indian space missions. Can you explain why India is so keen to benefit from space activities? What drives your government in these activities?
Dr. Annadurai
Ever since, its genesis the Indian space program has emphasized on "how space programs can be utilized for societal needs". India is a vast country with huge population, speaking several languages and distributed natural resources. The major challenge is how to distribute these resources equally and how best people can connect with each other for the overall governance. The driving factor in this connection is how Earth observation or remote-sensing and communication satellites can aid governance and provide space based solutions for meeting societal needs such as providing disaster warnings, natural resources monitoring and managing the same. This is an integral part of various departments of the government of India like agricultural department, meteorological department, fisheries, natural resources, urban development, oceanography etc. Tele-education and telemedicine are some of the unique flagship programs initiated by Government of India to provide space based connectivity services in Education and Health sectors.
In addition, Earth observation satellites aids farmer community in forecasting agricultural yields, supplement assessment to be provided in the fields and in decision making for seasonal crop growth etc.
APRSAF Secretariat
So, the Indian government is well aware of this?
Dr. Annadurai
Exactly.
Basically, from inception of the ISRO, Department of space has always been under the leadership of Prime Minister of India. The policies of space program are passed on to other federal departments which percolates to the state departments down the line. The Space program is always an integral part of Governance in India since decades.
APRSAF Secretariat
You had great success with Chandrayaan and the Mars Orbiter mission besides other communication and remote-sensing missions. What did the people in India think about these successes?
Dr. Annadurai
During the past, many people thought & questioned, "Why does a developing country like India needs a space program"? But today, there is a vivid change and people are able to understand the relevance of Space programme in the country. When we look back at our space program's relevance to Indian context, one can see that it is very well aligned to the vision of ISRO right from the beginning.
Let me explain with an example, when several countries were going through the severe economic recession in the recent past, the very fact that the Indian banking system was stable is because of the Sound satellite network that was acting as the backbone of the Indian banking system. I am sure everybody is aware of this fact. India has more than 250,000 ATMs and the effective method of networking them has immensely benefited the banking system on the whole to be stable in the country.
Similarly, India is a country with agriculture as a dominant sector. Satellites do provide farmers "know-how" on the seasonal monsoon changes, its severity and its likely effect on agriculture in different regions of the country. Policy makers play a vital role and are able to assess & decide on the overall yield for the coming years and accordingly they are able to harness the best policy to suit to the situation. So, throughout the entire agricultural farming cycle till the final yield, the outcomes are being measured by the stake holders using ISRO's space program. Through this, I would say we are successful in connecting with the people of India as well as provide space based solutions at the grass root level.
Besides these, Satellites do play a significant role in Oceanography. In Today's scenario, fishermen, when they venture into the seas, with the help of satellite data they are able to identify the potential fishing zones apriori and are able to get a good haul. Our fishing fleet consists of extremely modest boats and are not big mechanized boats. Yet, with the information provided by the satellites they can respond optimally and the economic benefits that accrue to the fishermen are far better without spending long times at sea.  Further, a fishermen App has been developed using the messaging capability of NavIC that provides position information for navigating to potential fishing zone, alert messages on rough sea and weather status and warning messages while approaching international water boundaries.
All these aspects are put together and India-specific applications were developed for the stake holders to reap maximum benefits.
With all these, I think today I can strongly say that the policymakers, academicians and Indian public on the whole are able to feel the importance of the Indian space program. To substantiate this statement, I would also like to point out that budget for Indian space program has always seen an incremental growth trend time-to-time, from the federal government so far.
Working together with APRSAF countries
APRSAF Secretariat
Thank you. Next, I would like to talk about the APRSAF and the Space Technology Working Group. What was your impression, especially of the first two days of the working group session, as the co-chair?
Dr. Annadurai
Although I am attending APRSAF conference for the first time, a very important event for the space fraternity, my co-chair, Mr. Imai connected with me very quickly and we were able to get along on deciding how to conduct the technical sessions. Firstly, the focus was on space technology trends — the flow of information among various space agencies, followed by interactions with academia, and then we brought in the space industries. Finally, we wrapped up the technical sessions with a panel discussion, focusing primarily on how to move forward beyond information exchange phase.
So far, the main focus was always on information exchange across the member countries and developing a network of like-minded space fraternity. I think we as "APRSAF community" were successful in doing so. But this time, along with my co-chair, we could brainstorm to find out the possible ways to leap forward beyond information exchange and chalk out a systematic action plan to identify problems which are common to member countries across the region. To take it forward, we focused on the possible solutions to the problems using space technology. I think, definitely Space technology can yield better solutions to the common man's needs. Today we have a convergence on the potential contribution by each of the space fraternity in this region to provide solutions to the common problems. India's existing constellation of remote sensing satellites mostly relies on optical imaging. These satellites are not conducive for earth observation when there is cloud coverage. Most of the countries in this region are prone to acute climatic conditions and varying weather conditions. During the brainstorming sessions we could converge on the need for a constellation of microwave remote sensing satellites that will help all member countries throughout the year, with day and night observation capability. If we are able to device a concrete plan and make it a reality, we will have a better solution for our regional problems. With the availability of a constellation of microwave satellites  all member countries can take advantage of the cost-effective services provided by the satellites and do things in a much better and focused way in providing disaster warnings, mitigation, relief measures and overall management in an effectively efficient way.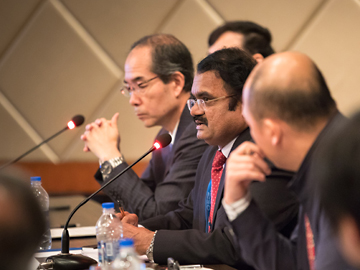 Every member country accepted the above proposal unanimously and my counterpart co-chair extended his full support for the Idea. In fact, he even shared the cutting edge technology developments happening in various labs of his country and how they can be harnessed for this common cause. We are recommending to APRSAF Secretariat, to take lead on this proposal, connect with other like-minded space agencies, to explore the possible action plan. Personally I would say APRSAF-24 was indeed satisfying and looks very successful to me.
APRSAF Secretariat
So, through the discussions within the working group, participant countries are equipped to proceed further, to initiate activities in their own way, in their country?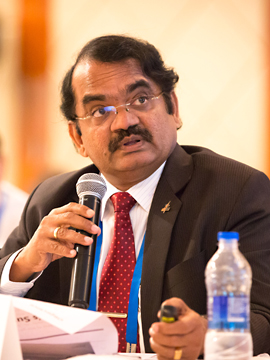 Dr. Annadurai
Yes. The beauty of Space technology management is that you can be independent to some extent and yet be fully connected to achieve a common goal. The idea is to use the capabilities & strengths of each country and see how we can collectively bring these strengths together for a common cause through APRSAF or beyond.  Definitely APRSAF has great potential to make this happen. Asia-Pacific region countries have their own societal needs and space programs, and I think it is the need of hour that we identify the overlapping problems and its possible solutions through space technology, harnessing the significant technology maturity each member country has as-on-today. I think it is definitely possible in the current global scenario.
APRSAF Secretariat
India last hosted APRSAF 10 years ago. After APRSAF-24, how can India contribute to the APRSAF community?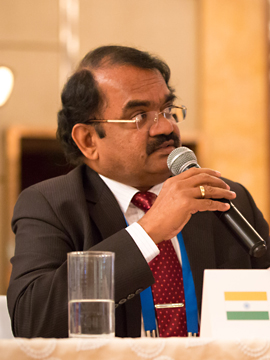 Dr. Annadurai
If you look at the proceedings of APRSAF-24, we had a good number of sideline meetings with other member countries to explore how we can make use of the space assets for common purpose. Over the time, India has been successful and has developed a lot of ground applications using various satellites data, focusing on the needs of common man and all sectors of society like agriculture, meteorology, fisheries etc. A very good number of applications are existing in-place as-on-today.
We advocate to extend this expertise to other member countries. Further, the technologies being developed for various other space programs in Japan, Korea etc., can also be used as well. India along with the above countries can take the lead to develop relevant new technologies involving all the like-minded member countries. If we are able to build a common platform to build better space assets, demonstrate their novel applications on the ground & its utility for the member countries, then I would say that space technology working group of APRSAF-24 conference is a success and has met its purpose. In line with this, we also had a couple of meetings with other member countries such as Indonesia, Thailand and Sri Lanka.
On the whole, APRSAF has been providing a very good exposure from which each member country can exchange information and move forward. We also agreed to have a common goal and action plan. I think this is a big rise for APRSAF to pursue further course of action and I am sure we will be able to make progress in a much better way in the coming years. I also would like to reiterate that for the Asia Pacific region participants, it has provided an excellent platform benefitting them to derive / work out a common solution for the regional problems through space technology. Notwithstanding all these, private industries are coming forward into the space manufacturing domain in a much bigger way these days.
Lot of potential & vibrant industries are available in Japan, India and across the region. Through APSRAF, we are providing a forum wherein industries are able to work together along with the space agencies, besides their other conventional market products. Global market is expanding in volume with varied variety of products, business verticals and the industries can rise to meet these global needs. In this context, today, our Asia-Pacific region industries are also getting ready to show their presence in the global space market. Over and above, students are also participating in our forum to understand the Satellite technology and its applications. In that way, all of us—space agencies, academia and industry — are able to align and work together towards a common goal for better living using space technology.