Interview with Mr. Kenta Watanabe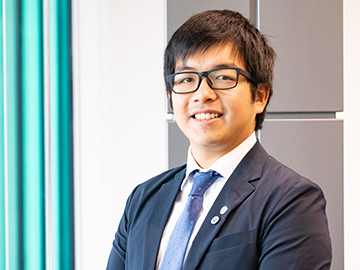 The younger generation contributes to the future of space activities
The Space Generation Advisory Council (SGAC) was established in 1999 in support of the United Nations Program on Space Applications. It is a global non-governmental, non-profit organization and network that aims to present the views of university students and young space professionals aged 18-35 at the United Nations, space agencies, industry, and academia. SGAC holds Permanent Observer status at the United Nations Committee on the Peaceful Uses of Outer Space (UN COPUOS) and regularly takes part in the annual meetings.
Since 2014, Asia-Pacific Space Generation Workshops (AP-SGW) has been held annually as side events of APRSAF annual meetings. A workshop was held in Nagoya on November 23 and 24, 2019. Following this workshop, a representative from SGAC participated as one of the panelists in the "HOA × Young Generation Session" during the APRSAF-26 plenary. The APRSAF secretariat interviewed Mr. Kenta Watanabe, the event manager of AP-SGW this year, and asked him how the younger generation can contribute to space activities in Asia-Pacific countries.

APRSAF Secretariat
Why did you decide to work in the space field?
Mr. Kenta Watanabe
My major was material science when I was in university, so my background was not directly related to space industry. However, I had a chance to come into space industry when I was sophomore, so called "Space Job Hunting" which is a job hunting event for university students to come across the workers in space industry. Ever since then I have been interested in space industry. After that event, a friend of mine in SGAC introduced SGAC to me and invited me to participate in the Space Generation Congress (SGC) which is an annual meeting of SGAC held in Toronto, Canada in 2014. At the SGC, I was really impressed to realize that participants from various backgrounds had deep knowledge and discussed a lot of matters actively about space development, policy, education and so on. This experience inspired me to pursue the space field further.
After graduation with master's degree of engineering, I have joined a private company in Japan which supports the operation of the Japanese experiment module "Kibo" on the International Space Station. Since then, I have started working as a flight controller of Kibo.
My work as a flight controller is totally amazing. I had dreamed about working with astronauts and now my dream came true. Thanks to the experience and network of SGAC, I could cope with international partners without problems. I'm pretty sure that SGAC members from various fields have broadened my horizons.
Secretariat
How was this year's AP-SGW?
Mr. Kenta Watanabe
We had largest number of the participants ever! We also had extremely excellent lecturers and sponsors. I was in charge of an event manager of the workshop. And as the event manager, I was very pleased and satisfied. The success was also thanks to the organizing team with its diverse staff. We had staff from overseas countries this time, and held discussions with SGAC's Asia representative. I had exciting days and learned a lot. The preparation was all about solving challenges without exact answers, such as determination of discussion topics, gathering sponsors, management of schedule, arranging visas, promoting applications by the participants, which made me tougher, while my daily work was mainly arranging usual matters.
Secretariat
How active are SGAC members in Asian-Pacific countries?
Mr. Kenta Watanabe
This year, we had 82 participants from Asian-Pacific countries at AP-SGW, including 42 registered attendees. But the participants are only selected members allowed to join AP-SGW and there are over 100 active members in the Asia-Pacific area including National Point of Contact (NPoC), who is a representative of each country, per two people at most in each country.
Currently, we have over 15,000 SGAC members in the world from over 150 countries. We have around 100 participants at the annual Space Generation Congress (SGC) which is the largest conference hosted by SGAC as an official side event of International Astronautical Congress (IAC). So the number of AP-SGW this year was quite near that. We're willing to promote AP-SGW further, by, for example, increasing our scholarship activities to attract more participants.
Secretariat
So this is a great chance for you and SGAC?
Mr. Kenta Watanabe
Until last year, SGAC AP-SGW was an independent "side event" of APRSAF. But surprisingly, we had an opportunity to participate in APRSAF plenary session as one of the panelists thanks to the tremendous cooperation by APRSAF secretariats. This was a valuable opportunity to share SGAC's input being put together in AP-SGW 2019 with the stakeholders. I would like to brush up and increase the number of these inputs to APRSAF continuously. In addition, as we don't have so many participants from the Asian-Pacific region in SGAC, we would like to promote the outputs of our activities. It is highly valuable for us to participate in APRSAF, where high-level participants from space agencies and industries are in attendance. We would like to present our activities at the plenary session continuously as a representative of young generation.